Album Review: Joe Taylor Sutkowski — 'Of Wisdom & Folly'
Posted: by The Editor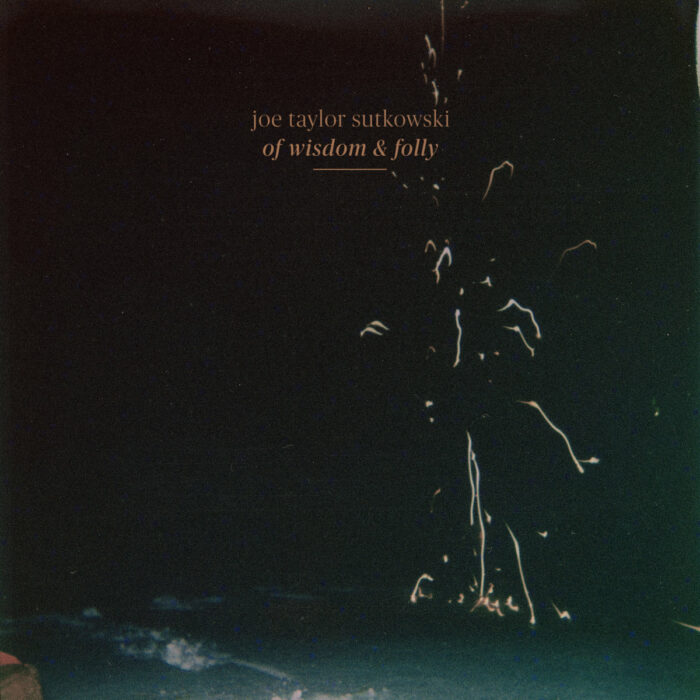 As a member of the freewheeling emo folk troupe Dirt Buyer, melding blossoming melodies and fluctuating dynamics is nothing new for Joe Taylor Sutkowski. However, the singer's first solo endeavour under his own name, Of Wisdom & Folly, still manages to capture his heart-wrenching songwriting in rare form. Where Sutkowski's work with Dirt Buyer and under the moniker Jotay is alien and otherworldly, this record is earthy and muted. At times, it recalls watching the sun peek through the clouds on a dry, chilly day. Marrying the sounds of alt-country and waterlogged indie, it's an impressive and sophisticated change of pace, even coming from an artist whose work was already pretty exciting and unpredictable.
Written over the course of ten consecutive mornings, the tracks on Of Wisdom & Folly came to life utilizing only vocals and a nylon-string guitar. You can definitely hear the impact that working around a minimal setup had on the record, too. Where Sutkowski's work as Jotay is synth-based, driving, and surreal, Of Wisdom & Folly is naturalistic and sepia tinted. On "Brother John," a minor key melody floats atop gently strummed, classically-indebted stringwork. "Sherry Had A Pretzel Head" finds Sutkowski's tone alternating between chipper and downtrodden. Meanwhile, "Keep Your Head Down" is the closest thing to a bona fide rock n' roll ripper on the album, with its crashing drums, slide guitar work, and syncopated hits. As a whole, the effort brings to mind artists like Alex G and Elliott Smith, but, in true Sutkowski fashion, it has an implacable and palpably ambitious air to it.
The songs on Of Wisdom & Folly are tales about imagined characters who intersect in vague ways throughout the record. While it's hard to tell exactly what type of world Sutkowski was trying to build, there's a Don Delillo-ish way in which these cartoonish vignettes come together. Because of the album's frequently glum disposition, there's something slightly unsettling about its storytelling. Listening to it is like looking at a peaceful train table, right before someone smashes it with a hammer.
On the opener "Jordan Was A Little Bottle Rocket," downright discombobulating musings dwell in the background of an instrumental that evolves from subdued to swirling. We come across a lot of figures in the album's 22 minute runtime, and it often feels like the Of Wisdom & Folly universe is one that only Sutkowski fully comprehends. However, we do meet Jordan the bottle rocket again on the record's standout closer, "What Luck Goodbye." It takes a few listens and a bit of context to begin to grasp at the project's narrative component, but this is far from Sutkowski's only endeavour that wears disorientation with pride.
Of Wisdom & Folly feels like it's over as soon as it begins, with the longest track clocking in at just two minutes and 59 seconds. Because of this, it invites repeat listens. It's similar to rereading a baffling book that just doesn't get old. Most of the tracks are downright pretty, and, thanks to its big arrangements and percussion-driven climaxes, they're frequently more gripping than what we've come to expect from Sutkowski. "Yellow boats float across the sky / We echo at the foot of a rainbow, oh-oh / It rains, it pours, how else do the trees grow?," he sings on "Steven Dog." Of Wisdom & Folly's puzzling subtext can be challenging to latch onto, but trying to peel back the layers is what keeps it engaging.
Disappointing / Average / Good / Great / Phenomenal
---
—
Ted Davis | @tddvsss
---
The Popdosemagazine is ad-free and 100% supported by our readers. If you'd like to help us produce more content and promote more great new music, please consider donating to our Patreon page, which also allows you to receive sweet perks like free albums and The Popdosemagazine merch.