Smallternative: 10 Small Reviews for October 2021
Posted: by admin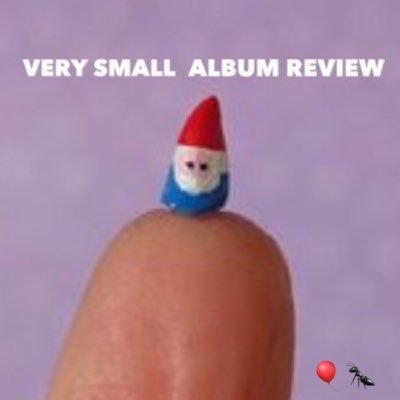 Small Albums is our friendly neighborhood "Ant on Helium writing Music Reviews." Look all we know is, they have great taste and write fun insightful reviews in a single line. So of course we brought them in to do a column on our site called The Smallternative where they can do what they do best, recommend music.
Below are 10 new reviews of some incredible recent releases in Small Album's minimalist style. Enjoy.
---
1. Brett Naucke – Mirror Ensemble (American Dreams Records)
A microwave oven made from sticks and leaves and a few fossils in a grove of trees that grow like vines.
---
2. Nilufur Yanya – Inside Out (ATO RECORDS)
The spaces in between the steam rising over the city.
---
3. Deleted Flowers – Heidi
A koi fish made from aluminum foil swimming around in a circle of ice, frozen to the bottom of a tin trash can.
---
4. Matt Robidoux – At Dust (Already Dead Tapes)
The blank broth begins boiling and rolling until purple geometric shapes begin to surface and slowly stretch into tiny land shapes.
---
5. Roseville – Something About a Fig Tree
The color drains from the fire and the white flames flicker like loose leaf paper trying to reach the clouds.
---
6. Kitner – Shake The Spins (Relief Map Records)
A tarnished silver tray of black and blue marbles balancing next to a preheating stove.
---
7. Shannon Lay – Geist (Sub Pop)
Along the walls of the ancient castle, magazine pictures of open fields with no focal points, hang perfectly.
---
8. Efterklang – Windflowers (City Slang)
Two lavender moons rolling across the dryness of an endless desert until they meet and barely collide for a moment.
---
9. W.H. Lung – Vanities
Armoires with legs like leopards moving in squares around an ever expanding room.
---
10. Son Step – New Ears
Standing on your driveway watching everyone down the street leaning coral panels against the walls of their homes and you're the only one that doesn't know why.
---
_
All reviews and recommendations by:
SMALL ALBUMS / @SMALLALBUMS on Twitter
---
The Popdosemagazine is ad-free and 100% supported by our readers. If you'd like to help us produce more content and promote more great new music, please consider donating to our Patreon page, which also allows you to receive sweet perks like free albums and The Popdosemagazine merch.