Posted: by The Editor
There's an overarching weariness that emanates throughout cursetheknife's newest album There's a Place I Can Rest, but it's imbued with a hopeful reassurance that despite this weariness, there's a place to go at the end of it all. When the Oklahoma City alternative rock band released part I and II of Thank You For Being Here three years ago, it was one of the most exciting releases at the tail end of an overwhelmingly uncertain and unstable year. Re-released as their debut album the following year through New Morality Zine, it felt deeply resonant in its attitude, its candor, and its gorgeously burgeoning and fuzzed out melodies that struck a chord for virtually anyone with an ear for the shoegaze / slowcore / heavy alternative rock revival. On their sophomore album There's a Place I Can Rest, cursetheknife willfully dive into a space that's overall more contemplative, slow, and deliberate and I spoke with guitarist / vocalist Severin Olsen and vocalist / bassist Branden Palesano about it. 
There's a Place I Can Rest takes on a different atmospheric tone that sounds more varied than their previous release as the band incorporates more sample loops, new vocal approaches, and even close the album with an old country style song. It leans more into the band's slowcore / alternative rock influences from artists such as Radiohead, Interpol, Townes Van Zandt, and Red House Painters as it opts for somber instrumentation and the clarity of Olsen and Palesano's vocals over the dreamier shoegaze elements on the previous album. Palesano shares, "We definitely wanted to do something different. I don't think our intention was to write another Thank You For Being Here. We wanted to push our limits as a band and make a diverse album that fits in its own universe."
One of the more experimental songs on the album is the band's third single "Big Ole House." Ironically it sonically sounds like the sunniest track on the album, but the derisive sample at the end of the song reflects the message behind it. Released in August alongside a video edited and directed by Olsen, it shows old clips of a vast countryside and developmental areas in contrast to one another as the simple but succinct lyrics Walk the neighborhood / Pass the cops / People turn on you / People talk / Moving to the country / Like a dream / Big ole house ain't as nice / As it seems reflect Olsen's sentiment towards a neighborhood he lived in. The song heard on the album is also the actual demo the band wrote as it was never re-recorded. "I was living with my roommate and my sister in a nicer neighborhood in a decent sized house when I wrote that one. The neighborhood was beautiful, but the neighbors were snarky and always talked behind each other's backs on the Nextdoor app. If you have a problem with someone you go to them directly, not complain about them for the whole neighborhood to see online," Olsen says of how the song came to be. "I no longer live in that neighborhood," he discloses.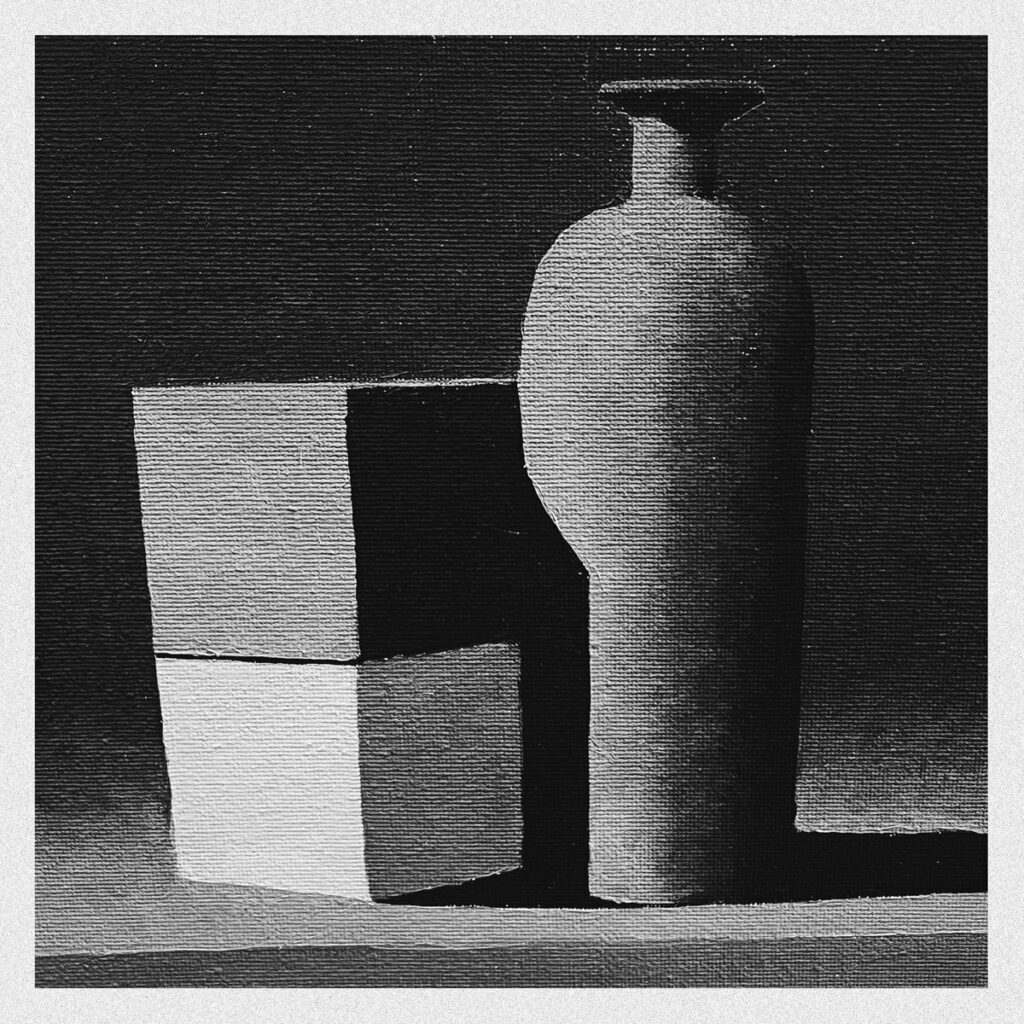 The album's cover of a greyscale still life painting ties in with the album as it prompts audiences to observe and be present within the space provided by the album. The painting was done by Olsen's grandfather (Larry L. Olsen) as he tells me how the cover art came to be. "He went years without painting anything since his college art days, but recently dove back into it. The painting was originally an assignment for an art class he was taking and he was sending me stuff he was working on. We connected with it instantly," Olsen shares. The album's title There's a Place I Can Rest is as Olsen expresses, "It's mainly a reminder that no matter how stressed out you are, how chaotic your life and the world will get, you will die one day and finally get a break from it all. So give your days meaning and don't let bad things and mishaps get you too bummed out."
The back half of the album contains the most diverse tracks and after the slowed down and introspective "Reach" there's the hypnotic droning track "Thrall" that sounds ominous but subtly contains a moody hook that makes it rather infectious. Of the songs on the album that Palesano is most excited for fans to hear he says, "I'm stoked for people to hear 'Thrall.' I personally think that's one of my favorite CTK songs that I've written. It was one of the first written songs of the record and we've played it live a lot. But my favorite track on the record is 'Big Ole House.'"
The closing title track is somewhat of an unexpected surprise, but feels like a summation of the themes touched on throughout the album that revolve around day to day living and modest observations delivered in the style of an old country song. On the idea behind the song and what it serves to do as the last track on the album Olsen says, "I had written that song a couple months before we started writing the new album and I never really knew what to do with it. I grew up on a hobby farm in Luther, Oklahoma and there was always country music being played on the radio or a western movie on the TV. I felt that the sound and feel of the title track paints a picture for the listener of where I grew up and what I was experiencing at the time of writing it. It's mainly just about how mundane and repetitive life can be. We're not a country band obviously, but I wanted to prove that I was capable of doing it."
Olsen has previously recorded and mixed the band's releases including the new album and recruited Gleemer's Corey Coffman to master it. "Corey is amazing. He's worked with a ton of well respected artists and we were honored he took on this album," Olsen shares. As for his own process in the mixing the release, he says "I made probably 10 'final mixes' of each song just cause I kept going back to change things no one will ever notice but me."
Overall There's a Place I Can Rest has a gravity to it that at times sounds so expansive it's difficult not to enter a reflective state of mind while listening to it. It's an album that strives to continue through the act of trying. Whether that's trying for something new creatively, trying to get by, or trying to capture something of significance, it's this aspect of the album that I've found myself admiring the most even when I found it almost difficult to digest upon the first listen. It's a beautiful introspective album layered with varying textures and sonic landscapes and has grown on me through each listen. 
"I hope people hear how we've grown into our own sound and how dynamic we can be. This album is less one dimensional than our last and that's on purpose," Olsen expresses. With the band being a side project to some of the member's other bands such as Mad Honey and Money, Olsen also shares that he often finds inspiration in continuing to create music through his friends in other bands. "They are beyond inspiring to us, and also the fact that people keep listening and wanting more music from us, we're very fortunate for that. Thank you to everyone who's listened."
–
There's a Place I Can Rest is out tomorrow.
---
 Loan Pham | @x_loanp
---
The Alternative is ad-free and 100% supported by our readers. If you'd like to help us produce more content and promote more great new music, please consider donating to our Patreon page, which also allows you to receive sweet perks like free albums and The Alternative merch.