Album Review: Pom Pom Squad – 'Death of a Cheerleader'
Posted: by The Editor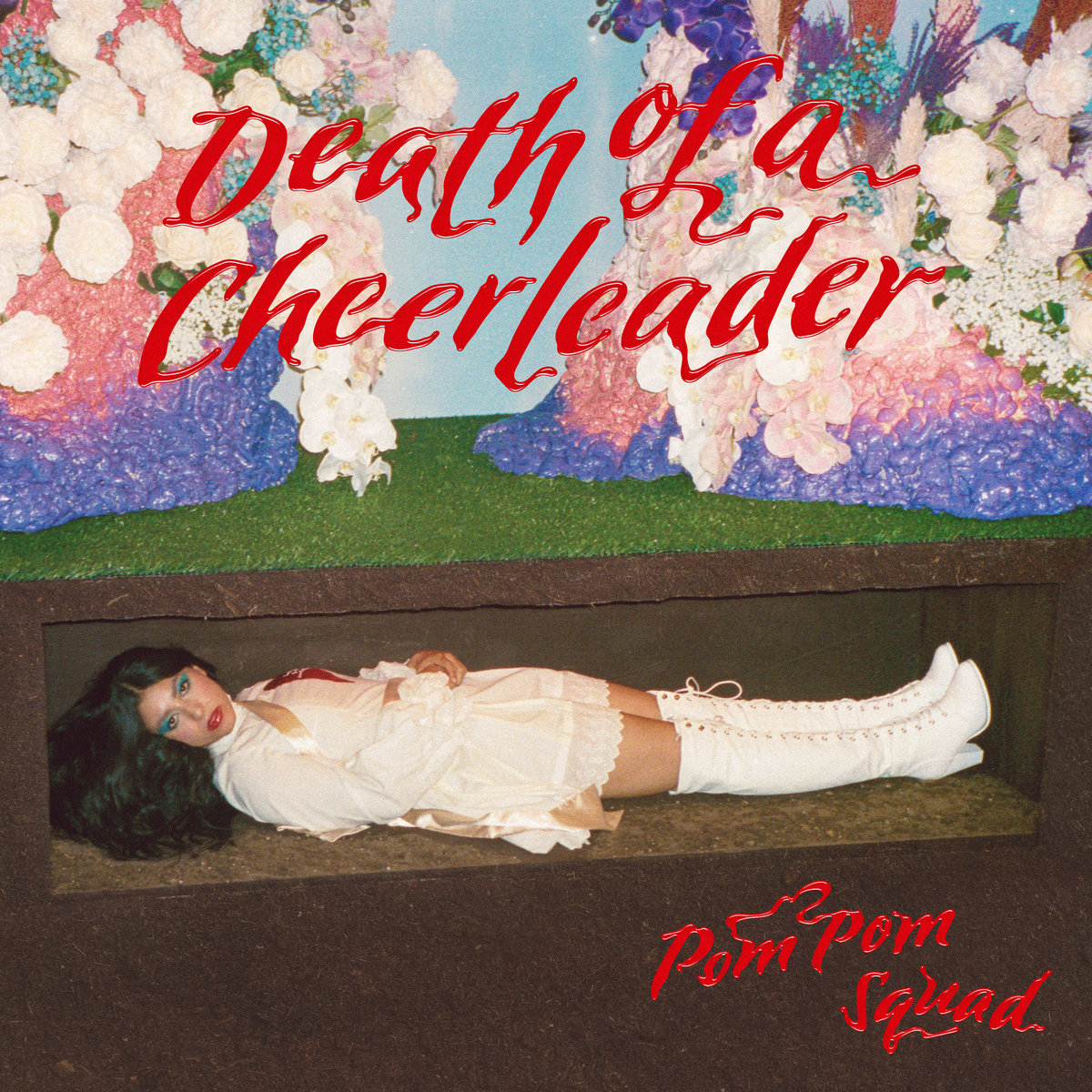 On Death of a Cheerleader, Pom Pom Squad attempt to melt an array of influences down into something uniquely theirs. Whether it's pulling from the free-spirited punk of riot grrrl, or the structured pop beauty of 1960s girl groups, it wears its influences proudly, making them obvious, but always uniquely conveyed. Not only is the sonic aesthetic of the group clear from a cursory inspection, but its visuals are as well. The group's name makes it unambiguous why we frequently see front person Mia Berrin in a cheerleading uniform. In an interview with Consequence, Berrin talks about how she came to adopt the persona of the archetypical American Cheerleader to reclaim its inherent power after being deprived of the standard high school experience by bullying. The tropes held within that uniform are potent, and it's clear Berrin is fully aware. She says that concertgoers would tell her after her stellar performances had shaken their preconceptions, that they had expected to hate her. Her putting on the uniforms for performances and promotional images is a kind of drag; Berrin is a character, a send-up of an idea, adorning herself in the hyper-femininity and hierarchical assumptions woven into that uniform. In her seminal essay "Notes on Camp", Susan Sontag wastes no time in describing that "The essence of Camp is its love of the unnatural: of artifice and exaggeration." While not specified, it's not a far reach to say that what Pom Pom Squad is doing with their visual presentation, as well as the way their musical influences are conveyed, is camp. No one else in current indie rock is so boldly making queer art with such embrace in its history, and as a queer listener, it's gripping to withhold.
The group's music is just as fascinating as its visual aspects. After opening with lush and eerie strings on "Soundcheck," we're rocketed into the pop-rock throes of "Head Cheerleader" , sure to be the group's signature song, it evokes Mitski in sound and message. "You should ask your mother what she means / She said stay away from girls like me" She coos during the bridge, interrogating why exactly her suitors parents would disapprove. Similarly rollicking are "Lux" and "Red With Love." The former is a driving punk homage to Sophia Coppola's The Virgin Suicides, with Berrin casting herself as the iconic Lux Lisbon, drowning in "cloud of peach alcohol." The latter is Berrin at her most gushing. As its title suggests, it's an outpouring admission of love that comes to a head with a series of pleading – "I need you, I need you." Berrin rears her head back on the snarling, saucy "Cake," one of a handful of songs that could stand to go on for longer. "Cake" is packed to the walls with attitude and full of possibility. Berrin is clearly a gifted songwriter, but the track leaves you wanting more in a way that falls short.
The record's secret weapon comes later on in the tracklist. The epic, winding rocker "Drunk Voicemail" slowly builds, starting off as lines of brooding narration, until it finishes in the record's most engrossing breakdown. Its bass line acts as a murky shadow, stalking Berrin's vocals, and the guitar is delightfully punchy, making for great interplay between the opposing forces. While the song is musically enthralling, it's important to note its lyricism. These are some of the most straightforwardly written moments on the record, and couplets like "Wanna tell you that I hate you, but I don't know how / When the truth is that I love you more than anyone else" and "You bide your time as you walk down the stairs / You want me alone when there's somebody there" underscore the unsettling conflict within it, and Berrin's ability to make us feel fear on her narrator's behalf.
Death of a Cheerleader is a satisfying payoff for fans who've been watching the lore develop since the group's debut EP Hate it Here in 2017. While it's an imperfect record, it's an ideal debut. Any listener is fully immersed in what Pom Pom Squad is, and what they're aiming for. With so many ideas floating around within this record, some of them only partially realized, it's clear wherever the group goes next will be just as exciting as the ground they've already broken.
Disappointing / Average/ Good / Great/ Phenomenal
---
–
Eric Bennett | @violet_by_hole
---
The Popdosemagazine is ad-free and 100% supported by our readers. If you'd like to help us produce more content and promote more great new music, please consider donating to our Patreon page, which also allows you to receive sweet perks like free albums and The Popdosemagazine merch.