Album Review: Nonfiction – 'I Painted This One Blue'
Posted: by The Editor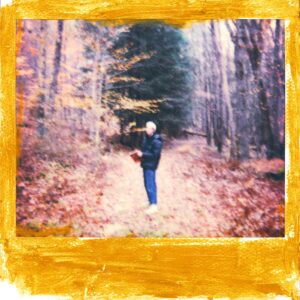 The sort of dark, moody alternative rock perfected by Manchester Orchestra on Mean Everything to Nothing has been imitated time and time again (often very well!), but rarely have acolytes sought to distinguish themselves from that formula. Nonfiction's debut, 2019's Same Pain, might well be the best take on that sound since Mean Everything to Nothing a decade earlier; as these things often go, the record received minimal critical attention. This time around, though, Nonfiction has thrown down the gauntlet; their sophomore LP, I Painted This One Blue, attempts to redefine their sound, filling out the corners with traditional Appalachian folk instrumentation – and the result is overwhelmingly successful.
The more standard rock songs on I Painted This One Blue, like opener "What Mr. Cogito Thinks About Hell" or lead single "No Shade," essentially feel like refined versions of the material off Same Pain; "Mr. Cogito," for example, is a punchier, hookier take on their sound displaying Evan King's full vocal range. When the shambling "What Gnaws at Me" dropped as a single, though, it was the first indication that I Painted This One Blue would take Nonfiction's sound in new directions.
King worked with Foxing's Conor Murphy during the pandemic, and that shines through on "What Gnaws at Me," with King at times a dead ringer for Murphy's quavery falsetto. The song meanders and bounces through tense verses before strings come in during the chorus to fill out the track and lend an eerie gravity. When the whole thing collapses into a post-hardcore bridge, the cello nearly overtakes the guitars, creating an almost uncomfortable dissonance between the bowed strings and King's hoarse shouts; it's a good taste of what Nonfiction's got up their sleeve on I Painted This One Blue. Other songs follow up on that promise, like "Your Arm. My Arm. Our Arm," which sounds like a Circa Survive song if that band staked it out in the Vermont wilderness to write a record, or closer "Narrowsburg, NY," which marries trancelike beats with steel guitar before washing the whole thing out in a psych-rock bridge, only to bring it all home in a gorgeous folksy coda that'd make Wild Pink's John Ross blush.
"LCL" and "Atacama" are probably the songs that best bridge the gaps between the band's old sound and their current; the former, dressed up in strings and banjo, retains the dark atmosphere of Same Pain reframed as alt-country balladry, and the latter has a hook that bursts to life with bluesy steel guitar to cut through the gloom of its haunting verses. Where both excel is where the whole record excels, in its ability to blend seamlessly the vibe and tone of the band's first LP with outside-the-box instrumentation; it's not a direction that anyone could've predicted following Same Pain, but it's one that, in the context of the new record, feels perfectly natural. It's proof that the potential they showed on their debut wasn't a flash in the pan; it was the mark of a band who, with enough time, would create a masterpiece. I Painted This One Blue might be it, but it's just as possible that this is only a step closer to putting out a timeless classic.
Disappointing / Average / Good / Great / Phenomenal
---
—
Zac Djamoos //@gr8whitebison
---
The Popdosemagazine is ad-free and 100% supported by our readers. If you'd like to help us produce more content and promote more great new music, please consider donating to our Patreon page, which also allows you to receive sweet perks like free albums and The Popdosemagazine merch.