Album Review: Kitner – "Shake the Spins"
Posted: by The Editor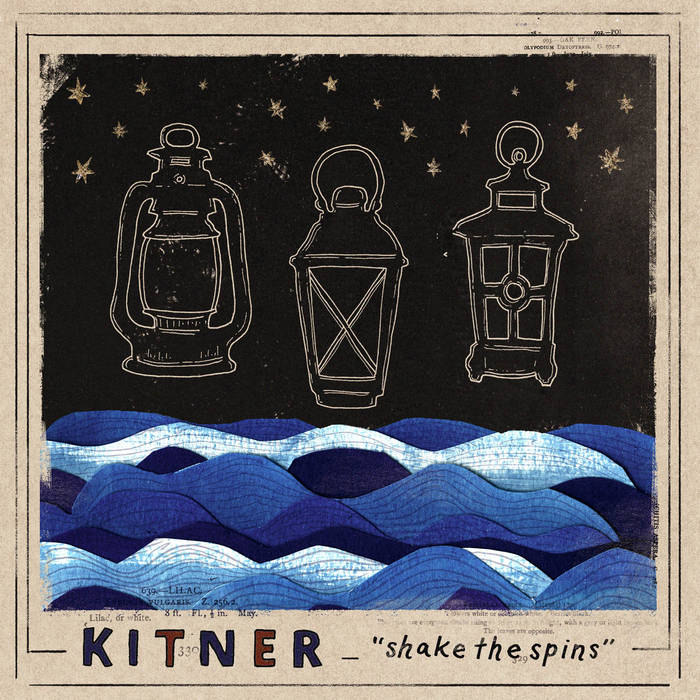 Kitner set the stage for their debut full-length Shake The Spins with "Hi-fi Times," a brief cinematic instrumental track with orchestral swells. While it belies the musical style of the rest of the record, it accurately reflects the mood of the album—a somber, intriguing collection of songs with lyrics that can feel stream-of-conscious at times, as vocalist Conor Maier plays off a word or phrase, reusing it slightly in the next line, twisting it and playing with the meaning to take the song in a different direction. The Conor Oberst comparisons will be inevitable with this record, not only for the themes, but simply for Maier's singing style, which echoes Oberst's, especially at moments like in "Suddenly" when he wails away on the line "it all felt wrong," but Shake The Spins never sounds like a ripoff and anyone who enjoys Oberst's music should listen to the record immediately.
While emo and indie are the identifiers thrown around for the record, it can also just be described as straight up rock and roll without the need to dissect it any further. The tracks range from lofi acoustic tunes that will strike a chord with anyone who loved "One Sick Plan," to loping country ballads, to ripping rockers with earworm choruses. The album is meticulously produced and the transitions between lofi and slick rock—sometimes occurring in one song with standout tracks "Beth Israel" and "New Haven, CT"—never feel jarring or out of place. Additionally, tracks have various transitions tacked on the end that transition to the next song, creating a throughline and feeling of continuity for the record that works well.
Lyrically, Shake The Spins takes snapshots of life in your mid-twenties/early thirties; for some people, a time of transition from the hard-partying days of younger adulthood to realizing the toll that those days take on a slightly less young adult body. Lines like "well you say I look hungover / But I'm actually still drunk" are a bit funny, but also immediately reveal a deeper sadness as a few lines later Maier is "mourning another wasted night." A lot of these songs could be described as "drinking songs," but they reflect both the evening's highs and the lows of the morning after, leaning more often into morning after and the underlying anxieties and tension that can arise from modern American city life.
After "Suddenly," the first track proper and an absolute rocker, the group transitions right into the more swaying "Bowery," a tune with a feel like the head-in-the-clouds walk between bars, echoed by the lyrics "as each stranger staggers out alone / drinking like the prohibition without their chaperones." As the coda hits and the guitars get heavier, the lyrics might remind you of a certain massive 90s hit; the band makes it clear this is intentional with the background vocals repeating "pissing the night away," a quoted lyric that certainly feels in place here.
"Junebug" and "Beth Israel" close out the first side of the record strong with the former being a midtempo country ballad and the latter jumping from lofi acoustic into one of the catchier rock tunes on the record. On "Junebug," Maier reflects on trying to find a familiar face at shows, but seeing only "an endless sea of strangers in black hoodies" and "Beth Israel" starts with a first verse that's almost too good to quote here—just listen to the record and check it out. After the singalong choruses, the track inexplicably ends with a 80s metal style riff. It's only a few seconds, but it's a nice moment of levity amongst what can be pretty direct and gloomy lyrics at times and a good reminder that even sad music can be fun to play.
Picking a favorite song on a record like this is difficult, but "Orient Heights" stands out to me. A straightforward rocker in the spirit of Springsteen with a massive chorus of "so long to a six pack / three or for more / we're sure to lose track / tried to count my blessings / every lesson's blacked out in blue," it's the kind of song that I would have blasted every Thursday, Friday, and Saturday as I drowned myself in Lionshead bottles if it had come out when I was in college. The spoken word transition takes you straight into "Malden, MA," another massive tune. I've already quoted it earlier, but there's also an excellent bit playing off of the idea of Pollock being "too drunk to paint" amidst some rocking riffs and blaring harmonica.
"New Haven, CT" echoes "Junebug" as it jumps from a lofi acoustic track to a somber indie rock tune. Again, it's packed with ear-catching lyrics that draw you in before pulling the rug out. A song about waiting up through the night with a friend on the edge, the subject matter is heavy and the band takes great care with it. It's a beautiful track that transitions into a Woody Guthrie-like acoustic intro for "Henry Miller '91," a tune that fits perfectly as the penultimate track, building into one of the most absorbing codas on the record and adding vocalist/keyboardist Brianne Costa an octave above Maier's baritone.
Album close "If There's Anything Left" is the most restrained track musically, with sparse, ambient instrumentation backing a fingerpicked guitar before things kick in for a bit at the end. It works as a nice comedown and closer for the record with the lyrics "if there's something you can sing / to write these wrongs / you could save my life / with just one song" almost serving as a mantra for the rest of the album. At just over 30 minutes, Shake The Spins is a tight listen that doesn't spend too much time getting to it's lyrical ideas or various sonic settings. Reading that this debut had been in the works for years as the band consolidated their lineup and members focused more on other bands makes sense—Kitner threw the kitchen sink at this record and pretty much everything hit.
Disappointing / Average/ Good / Great / Phenomenal
---
–
Aaron Eisenreich | @slobboyreject
---
The Popdosemagazine is ad-free and 100% supported by our readers. If you'd like to help us produce more content and promote more great new music, please consider donating to our Patreon page, which also allows you to receive sweet perks like free albums and The Popdosemagazine merch.