Track Premiere: America Jayne – "Scaredy Cat"
Posted: by The Editor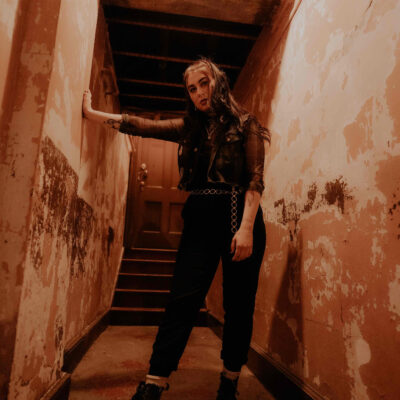 Hailing from New York, America Jayne (moniker for Erica Pierce) is a goth-punk, bubble-grunge rising queer artist that is making heads turn in the DIY Brooklyn scene. Packing their bags and leaving their small town behind, she made her New York City debut in 2018 and shortly was hired at a well-known music venue, Rockwood Music Hall, as a bartender. This is where the sparks for America Jayne flickered as she was constantly surrounded by live music, a revolving door of musicians, and co-workers who were also creatives hoping to catch their break. The rest is history.
Akin to the likes of Snail Mail and Clairo, the indie-rock singer is premiering their grunge-y rock power anthem "Scaredy Cat" today. A darker, guitar-led tune with fireball vocals, group harmonies, and a feverish drum line that pulsates throughout the track, it channels childhood fears and anxieties that seep into our adult lives without even realizing. America Jayne drives this theme by utilizing their tenacity with words as the song's lyrics begin by documenting a child's fears of ghosts before bleeding into the teenage years where that anxiety transforms into the fear of sex, and it ending with their current state of unsettlement as an adult—concern as she realizes she never quite conquered those anxieties. The heavier, grunge influences and discomposed drum presence of the single only amplifies this as it seems to emulate the inner changes the body goes through as anxiety settles in, creating an entire experience in the track's runtime. The music video for "Scaredy Cat" also visualizes these anxieties by placing Erica in a black drenched room—these fears only consuming them more vividly as the video rolls on.
Written by Erica Pierce, themselves, and produced by Ronnie Simone, the new single has a slew of names attached to it. It features Rachel Bochner on backing vocals, Nick Cianci (Del Water Gap, Samia) on guitar, Ned Steve (Samia) on bass, and Aidan Shepherd (Everest Cale, The Great American Novel) on drums. You can stream "Scaredy Cat" and experience its music video below.
It will be available everywhere tomorrow, May 13. America Jayne's debut EP, Homecoming, drops next month.
---
—
Hope Ankney // @hopeankleknee
---
The Popdosemagazine is ad-free and 100% supported by our readers. If you'd like to help us produce more content and promote more great new music, please consider donating to our Patreon page, which also allows you to receive sweet perks like free albums and The Popdosemagazine merch.