Interview: Counter Intuitive Records
Posted: by The Editor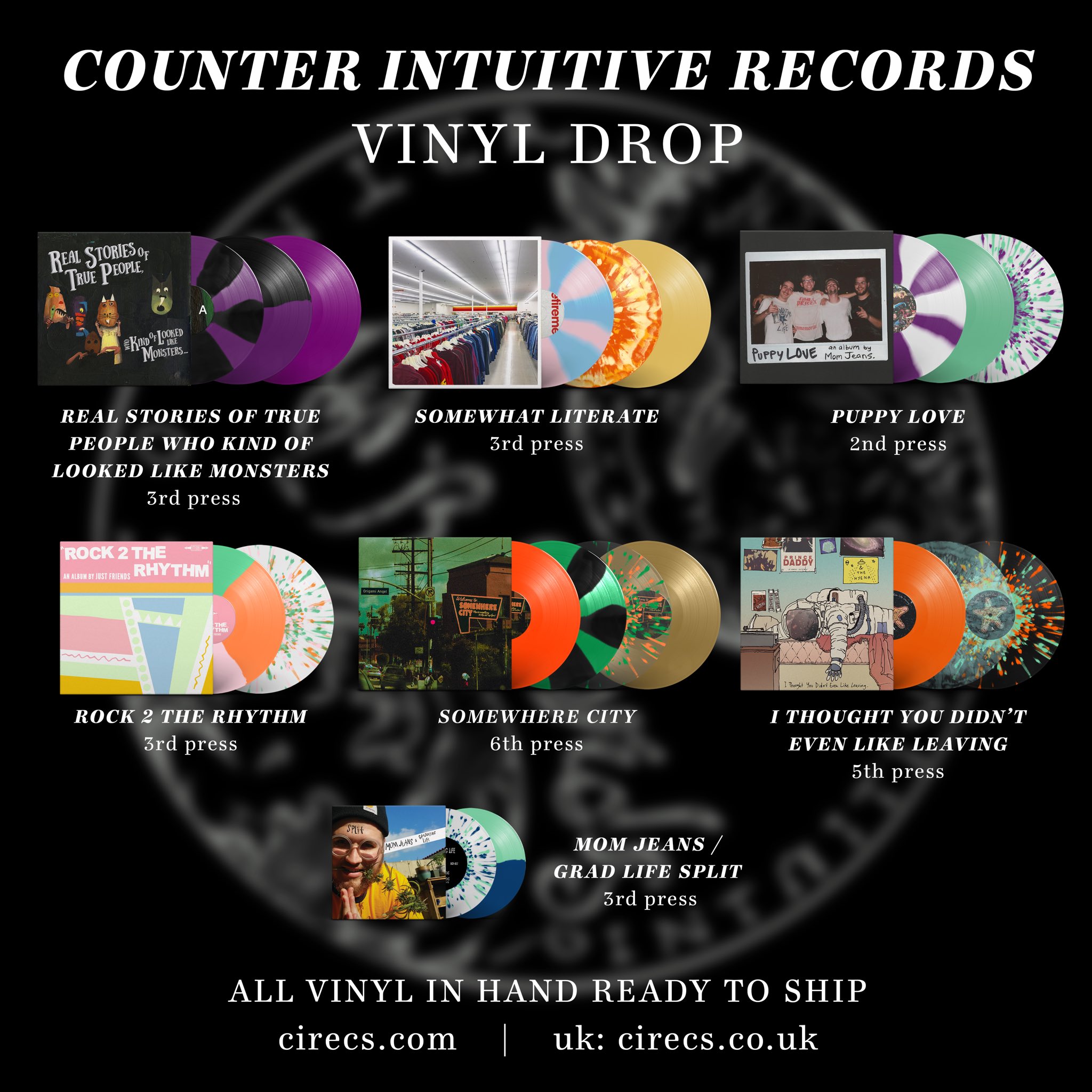 Counter Intuitive Records started the new year hot off a miraculously successful holiday showcase featuring the long-awaited return of The Hotelier to the stage, as well as many popular bands on the roster including Prince Daddy & the Hyena, Retirement Party, Oso Oso, and Origami Angel. Coincidentally, all of these bands (with the exception of The Hotelier– sorry Home, Like No Place fans!) are releasing vinyl pressings of some of their older, classic records through Counter Intuitive. We had a chance to catch up with Jake Sulzer, the driving force behind DIY's superstar label, who shared his thoughts on each release and the mission of CI Records as a whole.
"Counter Intuitive's goal during the pandemic has been to support our existing catalog as much as possible to keep momentum going for our artists trying to weather this storm. Part of this plan has been to invest heavily in as many pressings as possible. It was essential to group these together for one big vinyl drop as they finished alongside one another at the plant. It felt like a way to keep the communal feeling we have always strived to support. I met all these bands touring over the years and it's special to look back at the network of amazing musicians, artists, and friends that have grown together, creating unique communities of listeners over the last 5 years. Each of these records has played such an important role in the label's history, so I'm glad to get to revisit the stories around them."
Prince Daddy's debut record on CI was an anthem for angsty and disillusioned DIY entrants of the mid 2010's. Big, loud, and distorted, I Thought You Didn't Even Like Leaving has been a gateway album to the basement punk scene for many, but none more importantly than for Jake himself; "Prince Daddy's I Thought You Didn't Even Like Leaving (CIR020) marked the beginning of the band fully onboarding to Counter Intuitive, which saw them as one of the main faces of the label with a relationship that would last through an EP, split, LP, & double LP. We toured so much of the world together working on this album. We played almost a full set of these songs when I drummed for them on tour in 2017. At this point, Mom Jeans's Best Buds (CIR010) had been the only release CI Recs had done that really saw a band go from basements to the beginning of a career as musicians. Adding Prince Daddy's first LP to the catalog showed that it wouldn't be the only time that happens"
Another strong addition to the CI roster that's seeing a re-release with this drop is Chicago's Retirement Party. A project begun as a duo by frontwoman Avery Springer, Retirement Party would go on to sign with Counter Intuitive for their debut LP, Somewhat Literate, which boasted the acclaimed and rocking single "Passion Fruit Tea." Jake says about the LP that "Retirement Party's Somewhat Literate (CIR026) was the perfect project to come about following the success we had been seeing releasing more debut records for artists. Both Best Buds and ITYDELL had been big reissues and we were trying to get in with newer artists earlier on. With bands like Graduating Life (CIR017) and Nervous Dater (CIR021) trusting us to release their debut LP's, it was perfect timing to add in our first midwest presence with Retirement Party. They quickly established themselves as one of the more premiere artists we have ever worked with."
As the roster of Counter Intuitive grew, their ability to catapult bands to relative stardom among the emo and punk-rock communities presented itself as a blessing and a curse. It exemplified the hard work and capability of the label to be successful, but also highlighted the struggle amongst indie labels to keep up with major labels who could offer bands more resources. However, Jake has proven time and again that CI has the skill to provide a reliable relationship for bands in many different phases of their careers. This became most evident with the return of Mom Jeans to the label. "Mom Jeans's Puppy Love (CIR031) and their split with Grad Life (CIR032) marked a huge opportunity for us to show that we could keep up with a band that had rapidly outgrown the label with their debut. After the SideOneDummy fallout, Mom Jeans felt more comfortable sticking with us rather than pursuing any number of bigger labels that would have loved to sign them. We did everything we could for the record and it eventually resulted in CI opening our storage space as we pressed 5,000 copies of Puppy Love to keep up with the demand. These albums pushed me to figure out how to expand beyond shipping/storing records in my bedroom and were the catalyst for Counter Intuitive landing our first distribution deal to start getting our vinyl sold in record stores. I will always be grateful to Mom Jeans for giving the label the opportunity to grow alongside them."
Counter Intuitive has had a hand in the rise of many popular bands like Mom Jeans. Perhaps one of the strongest of these groups has been the project of Jade Lilitri, Oso Oso. Besides having teamed up with Triple Crown Records to produce a variant of both the yunahon mixtape and Basking in the Glow, CI also produced the first and only pressing of Oso's debut LP, Real Stories of True People Who Kind of Looked Like Monsters. Jake explained that "Oso Oso's Real Stories (CIR035) was a dream project for me, which at the time capped off an amazing run of reissues over the summer of 2018 (including Born Without Bones's album Baby (CIR029) and Jade's former project, State Lines's Hoffman Manor (CIR030)). I had been obsessed with State Lines and was a big Oso fan, so striking a deal with Jade for this record was huge for me in further establishing a catalog I could be extremely proud of. In exchange for pressing the album, I traded him my 1988 Ford Econoline for them to use on tour– which looking back is a great example for how our friendship has worked over the years. On tour this fall, he convinced me to put $1,000 on black in Vegas and to split it with him if I won, with the condition that if I lost then Oso would "do CI Recs a favor" at some point to make up for it. We will never know what the favor would have been."
With the history of commercial successes pouring out of Counter Intuitive, it's surprising to think that the momentum can ever slow down. After a certain point, the major acts required more resources and bigger space that, at the time, CI was a little unsure how they would provide. Along came Origami Angel, a band with a cult following and an impeccable marketing strategy spearheaded by Chatterbot Records. Releasing the first two pressings of their debut LP, Somewhere City (with exclusive variants through other indie labels such as Acrobat Unstable, Honest Face and Third Row Records), Chatterbot began working with Counter Intuitive for the 3rd through now 6th pressings of the album. Jake commented on the band's role in renewing the fire of CI, saying "Origami Angel's Somewhere City (CIR050) was an essential record for moving the label into a new era. We had started to see the writing on the wall that some of our larger acts would be ready to move on to bigger labels or be in the position to self release their material. I was feeling the pressure as the roster started to thin behind the scenes and we hadn't had many signings in awhile. Origami proved to be the perfect band—already establishing themselves as breakout artists while developing a style that really puts them in their own category. CI Recs was in a great spot to help build on the cult success they already had. With a premiere album like Somewhere City, we were able to test out how valuable the resources we had grown into, such as the retail distribution we acquired around the time of Puppy Love, could be. This record almost single handedly led to us outgrowing the storage space and moving the physical operations of the label into a warehouse. Now here we are, 2 years later, on Counter Intuitive's 4th press of the record with Origami Angel as one of the trailblazers for the new era of the label."
Operating with incredible foresight, Counter Intuitive has been essential in introducing stubborn emo/pop-punk fans to new styles of music through artists like Skatune Network and the energetic and genre-bending Just Friends. Providing a foundational brick in the building of Counter Intuitive with their sophomore LP, Nothing but Love, Just Friends have been just as integral to the growth of CI as any aforementioned band. "Just Friends's Rock 2 the Rhythm (CIR068) is the last in the catalog but certainly not the least. It feels strange to have the catalog number for this record be so high as its release in August 2015 actually predates the label. I first teamed up with Just Friends in 2018 for the release of Nothing but Love (CIR028), which felt like a driving force in growing the label by being the first record for us to release that truly felt like a departure from an emo/pop punk band. It opened up the door for us to work with Pure Noise when they signed the band, which has been nothing but beneficial for the label. Now the time has finally come for CI Records' first pressing of Just Friends's debut record—one which inspired many artists and friends near & dear to us, and no doubt is an amazing project to add to the catalog. Shoutout to Open Door Records and Programme Skate and Sound."
The current state of music is precarious, especially for live music and vinyl release. With lengthening production times at vinyl plants and ever-worsening health concerns surrounding the new rise of COVID-19 cases, it's hard to determine the best path to support the bands and music workers we love. With this release of some of Counter Intuitive's classics on wax, there's an option to help them while collecting a piece of history from a foundational label that has helped support the local industry for years. Jake shared his concluding thoughts, that "It's a really tough time to be a vinyl focused indie label. I don't hate on the major labels wanting to cash in and bring their releases to vinyl. It's validating that vinyl has that much of a presence again these days. I'm hoping we will see a way for things to return to form for indie labels alongside this boom in popularity, but in the meantime, here are seven new pressings totaling over 10,000 records from some of the best in the game."
Hop on the preorders now right here before they sell all the way out, and keep supporting your local musicians, industry workers, creatives, venue staff, and more. Stay safe and healthy, and we'll hopefully see you sometime in the near future rocking out to any of these seven amazing and seminal albums.
---
–
Luciano Ferrara | @LucianoRFerrara
---
The Popdosemagazine is ad-free and 100% supported by our readers. If you'd like to help us produce more content and promote more great new music, please consider donating to our Patreon page, which also allows you to receive sweet perks like free albums and The Popdosemagazine merch.