Posted: by The Editor
In 2017, the Australian alternative rock duo Wayside formed when high school best friends Thomas Davenport (vocals) and Josh Ehmer (guitar) came together after years of playing in various other bands around Melbourne. When they released their debut album Shine Onto Me two years ago, their sound notably drew inspiration from the various alternative rock/emo projects that Will Yip produced throughout the 2010s with an emphasis on modern shoegaze elements. In a full circle moment for the band, they recruited Yip to produce, mix, and record their sophomore album What Does Your Soul Look Like as he sharpened the band's innate ability for melody and helped them deliver a bolder and more cohesive effort. Drifting between the heavy but melodic components of post-grunge, the booming whorl of expansive arena rock, and a gutsy willingness to explore their inner emotional landscapes, Wayside are not to be overlooked in the current resurgence of alternative rock. Ahead of the album's official release on Friday, I spoke with the band about their approach in songwriting for the album, the influence of 2000s nu-metal, the catharsis found in writing their songs, and the most meaningful aspect of pursuing music for them.
While their band name is directly inspired by a song off of Ceremony's 2010 album Rohnert Park, both members are heavily inspired by a wide range of music from the big radio hooks of the 90s, to various hardcore, indie, shoegaze, and emo acts over the years. On their upcoming album they sound more focused and present as they confidently lean into heavier territory reminiscent of post-grunge/nu-metal bands of the 2000s, but with a particular consideration for vocals that are far more graceful than the gruffness that dominated past alternative rock/metal and veers closer to emo. 
When writing for the new album, the duo deliberately wanted to create more powerful and engaging songs that would go beyond what they had already tried to do previously. Ehmer shares of the process, "The biggest focus from early into writing was to try and make everything as dynamic as it could be. Trying to stretch our sound out kind of led us to make a lot of small decisions along the way that made a big difference with how the record turned out. Things like writing this whole record in Drop C, swapping out different pieces of gear from the last record, structuring songs in a way that gave the highs and lows more impact or even just messing around with techniques we hadn't really gotten into before were all a part of that."
Drawn to Yip's ability not just as a producer but as a songwriter and musician, their main focus as a band has always been on the songwriting itself. When presented the opportunity to collaborate with Yip, it was a dream come true as Davenport shares, "I think my personal favorite part of the writing process was having the same taste in and passion for melody as Will. There were countless moments where we'd finish each other's melodies and be exactly on the same page." When the band arrived at Yip's Studio 4 in Philadelphia with ideas for the new album, they admittedly came over prepared and had written 21 demos before sending him 15 of them. "On the first day of pre-production we cut 3 of those and then worked on some restructuring. We knew we were working with the GOAT and wanted to be as prepared as possible, but probably over prepared in hindsight. Next time around we'll probably do things a little differently," Davenport continues.
While bands like Turnover, Title Fight, and Balance and Composure have been influences on the band stylistically, they have also found inspiration from Australian artists like Daniel Johns of prominent post-grunge band Silverchair, as Davenport shares, "Silverchair are one of my all time favorite artists. Daniel Johns has been a huge inspiration for me and the way that I sing. I think he's one of the most underappreciated artists ever and I've always dreamed of sounding like him," while Ehmer notes being heavily inspired by hardcore band Break Even from Perth, Australia.
In between the broad push and pull dynamics of the record, Ehmer's emotionally driven and aggressive guitar melodies complement Davenport's otherworldly vocals that makes for an engrossing listen as they ultimately pursue catharsis through expressing personal matters close to their hearts. Of the songs on the album that provided them with the most relief in finally expressing them, Davenport reflects on the fourth single off the album, "'Safe Forever' is by far the most special song we've written, exploring the premature loss of a loved one who battled through illness for years. The only way we were able to make our peace with it was knowing they were no longer in pain, and finally somewhere safe. The loss of a loved one at the age of 17 really forces you to question a lot about the world. It has taken us about 13 years to feel comfortable enough to write about it, and it feels right to have spoken about this, in the hope that it can give any listener a moment of comfort." 
Followed by two other singles off the album, Davenport also notes the staggeringly dynamic "Parallax Error" that explores the idea of being caught in a vicious cycle with someone he had no control over. "This felt really liberating to express as the writing process almost helped me recognize the cycle and that I had just become a passenger," he shares. The propellant and heart-rending "Proud Of You" depicts a break up though Davenport had the intention of making it a rather positive one despite the hardship it may have caused. "It explores the notions of years of wanting to give someone everything they've ever wanted, and slowly coming to the realization that it wasn't supposed to be from me. It's not about falling out of love, but falling out of alignment," he shares.
When the second half of the album starts, there's a notable change in tone when reaching track 7 called "Peace and Quiet" that resembles Citizen's magnetically smoldering Everybody is Going to Heaven album cycle, but it ends with an uplifting sentiment. Davenport shares, "This song started as just that simple drone-like riff that you hear in the verses that Josh wrote. It could've easily gone nowhere, but I was pretty stubborn in pursuing it because it had a really specific dark mood to it that we hadn't explored too much on this record. They're the darkest lyrics I've ever written, with some very confronting imagery. It comes from a place of feeling left out at times and somewhat invisible. The song comes full circle reaching a realization that sometimes to get a little more, you have to give a little more." 
As the album progresses into the following song "116 Maple St," it's apparent that the element that sets Wayside apart is their instinct for leading with heavy and engaging textures before sailing into expansive shoegaze territory without ever succumbing to it as Davenport's vocals transcend all. The end of the album slows down as it leads into the spacious closing track "Weightless" and both Ehmer and Davenport mirror each other in one of their most mesmerizing tracks.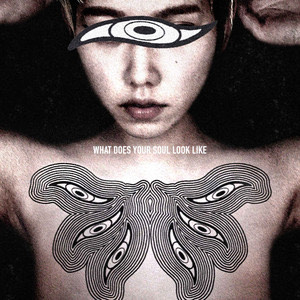 The album cover portrays a nondescript figure with notable tribal patterns in the form of an eye over their face and chest that plays into the same sort of 2000s nu-metal artwork you might have seen from Deftones, Drowning Pool, or Godsmack. Ehmer shares, "The artwork was done by a tattoo artist that I've been following for a while who makes the coolest shit. We reached out and it all came together that way. We're stoked on that artwork, it's sick." The visual aspect of the band that extends to their music videos and t-shirts are also heavily influenced by gritty alternative rock from the 90s and 2000s as Davenport also shares, "That era of music really did influence us. We were teenagers during that time and they're such pivotal years in terms of how they shape your music palette and the associations you create. We're both undeniably huge Limp Bizkit fans." 
The most meaningful aspect of pursuing music for the two have been in being able to write music together as Davenport shares, "Writing music with your best mate is really cool. For us, songwriting is our main passion as far as being in a band goes and probably the part we find the most meaningful. We complement each other really well as we both have strengths in different areas and very rarely disagree on much. Aside from that, I'd have to say the friendships and connections we've made, like a lifelong friendship with Will Yip." Ehmer shares, "It's my main creative outlet. It's also cool to be able to listen back to the things that we've done over the time that Wayside has been a band and see how things have evolved. Not knowing what will come next is fun too. It's kind of a weird way to fuck around with your friends and have something to show for it."
Wayside may be a newer project for the duo, but both Ehmer and Davenport have spent years pursuing music through various other bands they've been a part of. As they gear up for the release of What Does Your Soul Look Like, they would fit quite comfortably amongst the current wave of alternative rock bands in the U.S. and while they would ideally love to tour in the states with the unstoppable force that is Taylor Swift, they're pretty open to touring with anyone, and perhaps most obviously, Deftones.
What Does Your Soul Look Like is out Friday through Nature Girl Records.
Vinyl and merch available now.
---
Loan Pham | @x_loanp
---
The Alternative is ad-free and 100% supported by our readers. If you'd like to help us produce more content and promote more great new music, please consider donating to our Patreon page, which also allows you to receive sweet perks like free albums and The Alternative merch.