Posted: by The Editor
The DJ booth looks like a lonely place sometimes. You might be surrounded by an admiring crowd, but the weight of the entire performance often falls on your shoulders alone — no drummer to back you up, no guitarist to swing the focus to for a solo. Combine that with the relentless touring lifestyle of a DJ, and the necessity of spending long solo hours basking in the glow of Ableton, and you have a recipe for acute musical isolation.
Knock2 and ISOxo might have solved that particular problem, simply by befriending each other at a crucial moment. These two DJs/producers met as teenagers in San Diego with a shared interest in electronic music. Now they're playing four sold-out shows together at Los Angeles's Shrine Auditorium — a massive accomplishment for two artists whose careers are really just starting to accelerate. Knock2 (aka Richard Nakhonethap) completely enveloped the dance airwaves with his 2021 bass house hit "dashstar*", smashed his Lollapalooza set this summer, and has just come off a headlining tour in support of his EP ROOM202. Meanwhile, ISOxo (aka Julian Isorena) just put out kidsgonemad! (via 88rising), an eclectic full-length album that expands far beyond his command of the trap genre, and he's been playing everything from Insomniac fests to rowdy pop-up shows in unexpected locales. Together, they are no doubt going to put on a show to remember.
I chatted with both artists in advance of their Shrine shows about how they relate to the experience of performing live — pre-show rituals, the conception of visuals, pre-show nerves — and how their friendship influences their music.
---
ISOxo
Is this your first time playing at the Shrine?
Yeah, first time. I've been there a couple of times. I did a little walk-through tour of it. It's fucking massive.
Do you know the capacity?
It's at least 5000, I think, including the balcony.
Holy shit. That's nuts. And you're playing four nights and they all sold out.
Pretty crazy. Honestly, I don't know how I ever got to this spot.
I know you have the new album out. How early in the process of producing music do you think about the live experience and how you might play it at shows?
It really goes hand in hand with each other. This set for the Shrine is going to be the first time I'm playing a lot of the album tracks. For the past two years, I've been playing music from my older projects. Honestly, before we got on this call, I was literally working on the set intro.
Anything you want to tease from it? And if you want to keep it under wraps, no worries.
I would love to tease it, but, I'm going to be completely honest — it's not even close to being done right now.
You've got time!
A lot of things come very last minute, which I need to get better at, just like planning ahead. But yeah, I'm going to be playing the majority of the album, if not all the songs from the album, and some special edits — a few surprises here and there, tricks up my sleeve.
I was watching a video from your last tour cycle and there was some live guitar in the mix? That was cool.
Oh yeah. That was actually my friend from high school. Joey Falcone, shout out Joey. That was the Nightrealm finale show. That was the final show that highlighted my debut EP [Nightrealm]. I wanted to end on something really big and include some live elements. I feel like it really elevated the experience. I've always loved guitar and rock music. That was the first genre I fell in love, rock and metal.
What kind of rock music were you originally into?
So I was a big gamer when I was a little kid. I played Guitar Hero. I didn't really have a lot of music to listen to, the only real selection I had was music from video games. So bands like DragonForce and Megadeth. A lot of heavy metal, speed metal type shit.
Guitar Hero is powerful. I know Post Malone apparently started playing music because he started playing guitar on Guitar Hero and then was like, Oh, I would like to play a real guitar.
I was maybe eight or nine when I first start playing that game. And then for my tenth birthday, my parents gave me a real electric guitar and I was so hyped, but my hands weren't big enough to wrap my fingers around the neck of the guitar. I wish I kept on doing it. Maybe I might have been on a different path! But I'm really glad where I'm at right now. The transition from rock and metal to electronic was really natural for me, and that's the type of energy I'm trying to portray in my shows: really metal, punk energy.
What was your first show playing as a producer/DJ?
In San Diego, they have an annual county fair. They had this EDM night, and I just signed up to play. I didn't expect to be chosen or anything, but they accepted the application I submitted: a couple of original songs and then a few DJ mixes that I'd made. I had never been on stage before. This is 2015, so I was 14 or 15 years old. That day was the same day I met Knock2 because he was playing the same stage as me. Seeing another kid that kind of looked like me, was the same age as me, doing the same shit — we connected pretty naturally.
That's amazing. Wow. Shout out the San Diego County Fair for taking a chance on some —
On some fucking 14-year-old. I don't think I even told them my age. I was just like, "Oh, I'm local." And I pull up and I'm like a sophomore in high school.
That's incredible. So you just played some kind of renegade pop-up shows in a few cities. What was that like?
Those were the coolest shows that I've ever done in my life. We did four renegade parties. We did the first one in San Diego, my hometown, under the freeway in this storm drain. It was so sick. And then the second one, we did in New York in some random alleyway. That one was very hectic. We pulled up in a box truck and announced the address, I think, two or three hours before we went on, and there were like 1500 kids there. The third one [in LA], we did on top of a parking garage. That one was sketchy because I don't think they had ever had a party to that scale before. When people were jumping, the ground was flexing. I felt kind of scared that the ground would cave in. And then the last one we did was in the Bay Area, and we did that the night before my album dropped, at Battery Chester. It's an if-you-know-you-know type of spot. The cops shut it down 45 minutes into it. But that's just the spirit of these shows. Doing these kinds of shows for free, it's a way of giving back to the community. If I heard that my favorite artist was having a free show at some random-ass spot, I would be so hyped.
It's very old school, too. I'm not quite this old, but you hear about the '80s in England with warehouse parties, or raves where you would have a random phone number to call and they'd tell you to go to a random field somewhere.
Yeah, that's what we did in San Diego and the Bay Area. We had a text blast for people who signed up, and we told them to go to this random parking lot, and then we had our homies hand out these maps. It wasn't too crazy, but you know, "go through, up a hill and around the corner, and then boom, you'll find it." It was a whole experience.
Very cool. Do you have any pre-show rituals, anything you like to do getting ready for a set?
Definitely. So I cannot travel alone. I always try to bring my homies along. Like a lot of our media guys, like video and photo people, are my close friends. That's something that I will do till the day I die. I've done touring before where I'm alone, and it sucks. It's just cool sharing these moments. And I always have to stretch before I go on. Stretch out the legs, because I always used to cramp up on stage near the end of my sets. If you put in a good little yoga section right before, it should be all good.
I feel like you're jumping around a lot. That can be tough on the joints. I saw when you played Hard Summer, you did this extremely cool TikTok where it transitioned from sound check where you're playing to an empty concrete hangar, and then all of a sudden it's filled with people. Is it hard to play things at sound check and imagine that people will be there vibing?
It's definitely a little awkward because you're just playing to the sound guy, you know? That's when the nerves hit for me. Sound check is usually when I see the stage for the first time, and envision what the crowd is going to look and feel like. It's anxiety-inducing for me, just because I'm a pretty timid person.
 I was going to ask you if you get nervous before shows.
Oh yeah, definitely. Every single show, anxiety just hits me like a bus. The last festival I played was called Hulaween, in Suwannee, Florida. The whole day, I was feeling totally fine. I was like, man, this could be the first show where I play completely fine and not be nervous. And then for some reason, 20 or 30 minutes before my set time, the anxiety just filled my whole body and I had to sit down and take a breather. But honestly, the way I see it, if I'm really nervous or something, it means I really care about it.
Yeah, totally. If I ever do things that make me nervous, I try to tell myself to appreciate it, because the next time I do it again, I won't be as nervous. You kind of have to think of it as a moment to savor in a weird way, even though it might feel weird.
Yeah, I completely, completely feel that.
Do you have a song off the new album that you're especially excited to play for people?
I think I'm excited to play some of the softer songs. Just because I've built my career on this harder, harsher sound, and this album was an opportunity to expand the palette and make music that's more emotional. The crowd could take it negatively or positively, so I guess I'm just excited to see how it plays off.
Especially hard songs, you know people are going to jump around or mosh or whatever. For softer songs, it's like — wait, what will they do?
Exactly. Don't get me wrong, I love moshing and turning up and shit. That's one of my favorite things to do. But as a fan of other artists as well, I love music that can touch my soul, you know what I mean? And I really want to achieve that with my audience too, and I hope I can. But, you know, at least I'm trying. We'll see how it goes.
---
Knock2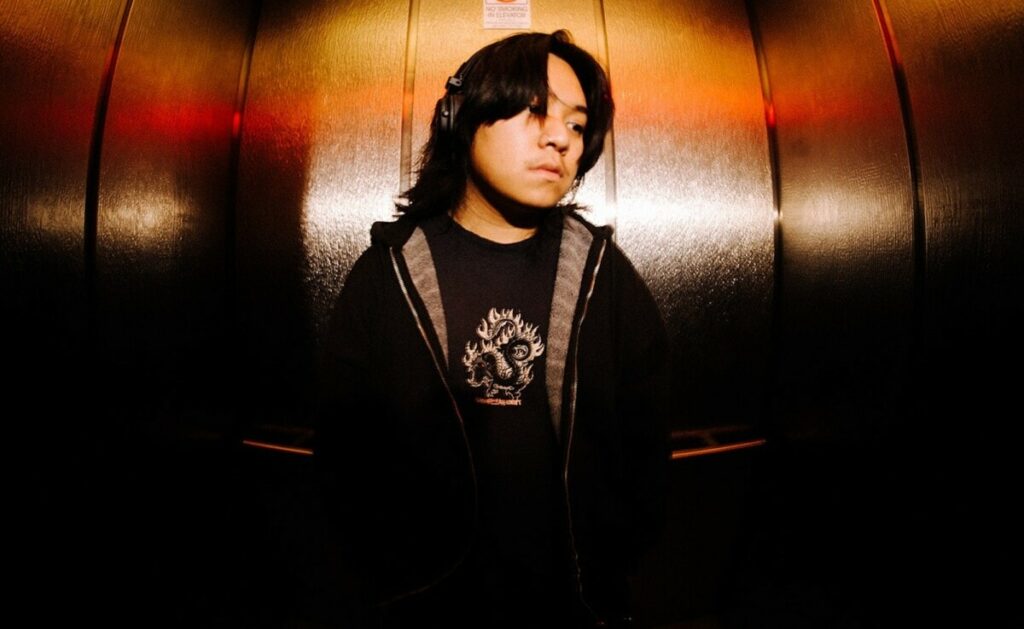 How excited are you for these Shrine shows coming up?
I am beyond words, honestly. It's one of the biggest achievements that could ever happen in my career. It is a ton of work. But the spontaneous energy around putting on a show is what makes us want this even more.
So what is your average day like right now, getting ready for this thing, in terms of what you have to do on the admin side?
I'll give you some background. I just finished my ROOM202 tour, so I've been nonstop for almost two months now. And every single week on top of touring, I'm prepping for the show, prepping the music, working on production, having these conversations with different production managers, just trying to express and communicate the best I can.
A typical day for me starts with looking at what time it is. And most of the time I'm up late, because I'm grinding my ass off trying to work on some music or finish a new edit. So most of the time I'm waking up at, like, 11:30am. I'll text all my group chats with my team at like 5:30 in the morning, going to sleep: guys, do not text me or call me until like noon. Because I'm not gonna lie, I have been waking up a lot more anxious than usual. As soon as I wake up and I look through all the notifications, it's like question after question: what time should we do this? What are you guys looking for for that? I'll keep it real, there have been some days where it's been super hard, where I just don't want to do anything at all.
Yeah, of course!
But today, especially the Shrine being this week, I woke up with this new energy. I just got back from Denver. I just did Red Rocks with DJ Snake, and I'm definitely still feeling the adrenaline and the energy.
This is a crazy schedule. Which day did you do Red Rocks?
I did Red Rocks on Saturday. Prior to that, that whole week I was prepping for that set, working on new visuals and working on new music, new tools. But what makes this show, and Julian presenting kidsgonemad! is it's just a whole different experience. I can go play at Red Rocks, play support and everything's there, but with how we're curating this show, there's just so much more that goes into it.
Do you have any day-of-show rituals?
I think that's a great question because I wish I had one….I do like having a sandwich on show days, just so I can get my energy on.
What's your sandwich vibe? I'm a big sandwich person.
I'm from the West Coast, so any type of Cali concept sandwich, with some turkey, avocado, bacon, is my groove. I'm not going to lie — I had one today.
That's great. Avocado on the sandwich is always a good move, I think.
Goated combo. Dynamic. And another pre-show ritual is, if all my friends are there, we always huddle up and share our gratitude for each other. Right before the set, we always hug and share our appreciation. And on my past tour, too, a little inside joke we've been having was like, "Oh, let's lock in." It came from this random meme. We do this little knuckle thing and say "lock in," and start the show that way.
What is it like playing shows with ISOxo?
Our dynamic together is honestly…it's so hard to find the words because anytime we're on stage together, the chemistry is so strong. I kind of want to call it muscle memory. It's really weird, I've seen videos of us together, playing a show or whatever, and we'll be doing the same moves. We'll do the same jump, the same spin. It's the synergy, you know? If we're up there together, it's honestly way more fun. There's a whole different type of energy and showmanship. I definitely take my notes from him too, because he's just a rockstar. I have my steez for sure, I'll be confident in that sense, but there's a different type of energy when Julian is up there.
He said that you met because you were both on the bill at a fair — do you remember that experience?
I remember this experience vividly. It's truly one of the most genuine friendships that I've ever developed. You know, you go to school and you see people at school and you become friends with people you see all the time. But this was a friend that I met at a random event. We're also both Asian. In a sense, Asians are just like, yo, I want to see another Asian win. It's just a core value that we have in general. So we thought that was really special.
It sounds like an "aligned in the stars" moment for you to meet.
Literally. I've been working on this video intermission piece for the show and I was going through all the footage and everything we've done together. I'm like, Oh my God, we were like children. We were kids. We were just kids that had the same dream and we were just like, "Yo, let's do it together."
Do you get nervous before you go on stage?
I think it depends. If I do a club show and everything's there, cool. I just pull up, do my shit, rock out. But if I'm bringing special guests or a whole production, with pyrotechnics cues and laser cues and all that stuff, then it's like, oh my god, this has to go perfectly. I've been DJing since I was eleven, and DJing in front of people consistently since I was like fifteen. So that nervousness kind of flew away.
I also did performing arts as a kid. I did the school play and a choir. So I think being in front of people has always been chill for me. But when there's so many logistics going around, I always want the vision to come true.
For planning the visuals portion of your show, how does that get started?
Creative ideas just kind of just pop in my head, and I approach my team about it and then they get professionals to execute the vision. The ROOM 202 EP is inspired by the early 2010s era in dance music. I was trying to figure out what the early 2010s looked like visually, and I was thinking about catalog photos and stuff like that. At that time, there were a lot of pictures in elevators. So I tried to connect the dots with that imagery and with what the show is called, Room202. So let's create a journey to getting into this "room," this underground place. When I finished up the content for the EP, I never imagined that I was going to translate that into an actual show. [Knock2 proceeds to share some secrets of the Shrine show visuals, which I will redact to avoid spoilers — but follow The Alternative's IG and you might see them soon…]
It's definitely not super EDM in a sense. Julian and I really care about breaking that threshold of what defines a EDM show. It's very theatrical in our minds.
It sounds like you're going to take people on a journey.
Oh, you know it. It's gonna be nuts.
What do you do after a show for the rest of the night?
First, it's sharing my gratitude and giving everyone on my team a hug. It's a big "we did it" moment, for sure. And even if there's some nights where we don't execute the way we want to, it's still all love. And then right after, saying hi and bye to the fans — I always go around and tell everybody thank you and take pictures and stuff like that, all the way up until the last person. Then, I go back in the green room and finally have a good sip of cold water.
[laughing]
We celebrate the moment with the whole team until we get to where we're staying, and then I look back at my Instagram stories and look at all the mentions and try to relive what happened. I don't want the moment to ever end sometimes. This past weekend I just did Red Rocks, and I'm just looking at the footage and going through the story mentions, like, oh my god, all these people posted all these crazy clips. Hearing the different pockets of audio, different friend groups, people singing the songs as loud as they can. It's cool to see the perspective of the fans through video and photos. That's my aftershow vibe.
That is so funny. I've honestly never thought about that before, that you can literally replay the experience and tap through it.
Sometimes if I'm critical, I'm like, Oh, did the lighting director get the cue right here? Oh, he did it! If the CO2 hit on the right spot, I'm like, yes. It's a whole thing. My mind's never really off.
And then you go to bed at 5:30am and then you gotta get up and do it all again!
Exactly. The night I did Red Rocks, I just couldn't stop thinking about, damn, this just happened. I have weird dreams sometimes, and I have this recurring dream that my teeth fall out. I read somewhere online where they say it correlates to something in your life that's going to change. I have it like once a week was like.
Are you kidding me?? I've had those dreams too, but maybe once a year. Once a week is nuts.
And you know, I woke up and the clip of me and DJ Snake just went up too. I was like, this is a whole new ceiling for my career. And I'm forever grateful for that. But knowing that next week, the first clip of me and Julian playing the Shrine is going to go up — it's just going to be crazy. It's hard to process sometimes, but I'm excited. New moments, always.
---
The Alternative is ad-free and 100% supported by our readers. If you'd like to help us produce more content and promote more great new music, please consider donating to our Patreon page, which also allows you to receive sweet perks like free albums and The Alternative merch.