Artist Interview: Charlotte Cornfield
Posted: by The Editor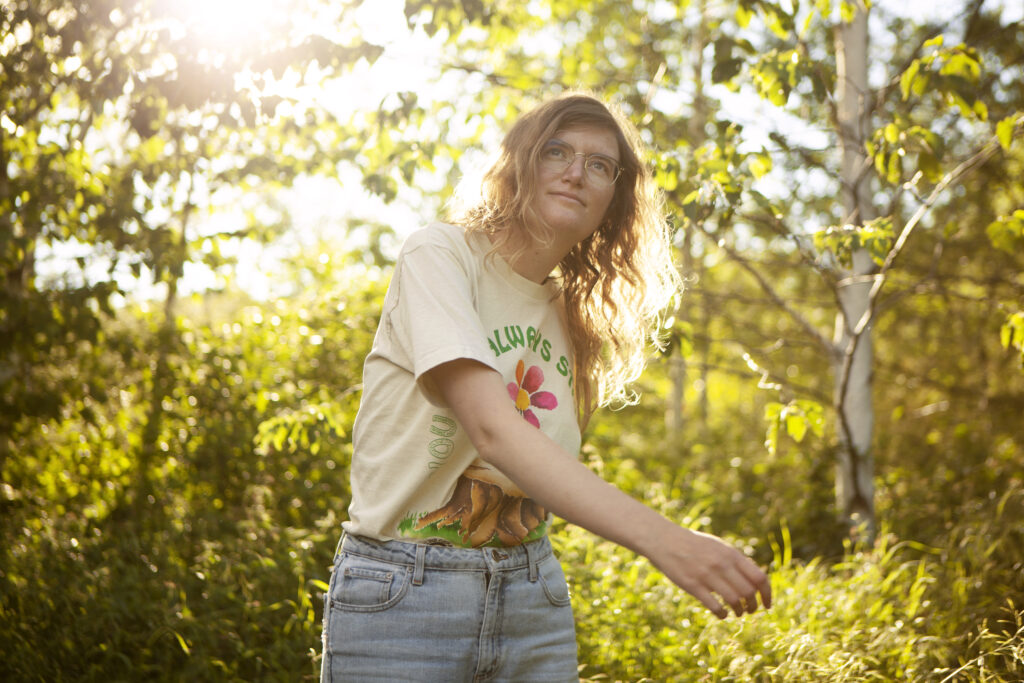 Today, Toronto's Charlotte Cornfield releases her new album Highs in the Minuses on Polyvinyl Records and Double Double Whammy. Highs in the Minuses is a move toward full band arrangements, and lets Cornfield's confessional, stream of consciousness writing style play out like thrown-off thoughts that just had to come out. It runs the gambit from sweet, emotionally affecting tales like "Partner in Crime" to upbeat, indie rock jams like "Headlines." It's a record that feels one of a kind and reflects the intent and artistry of the musician that created it in every note. If you're reading this interview, be sure to give it a listen.
---
You have a new album coming out in October, called Highs in the Minuses. Can you tell me a little about how this record came together?
In March of 2020 I was at the Banff Centre for the Arts in Alberta, working on a batch of songs that I hoped would morph into the next record. My residency there was cut short because of the pandemic, so I ended up back home in Toronto with a lot of time on my hands. I got into this deep writing model mode, reflecting on my life and relationships, my teenagehood and childhood, my early music days in Montreal. I dove fully into working on the songs, and then as they took shape I went over to my friend Sam Gleason's studio to demo them. Once I felt really good about the songs and arrangements I booked some studio time with Howard Bilerman at hotel2tango in Montreal. I called up my friends Ali Levy (Ada Lea) and Liam O'Neill (Suuns) to play bass and drums on the album. I've known them both for a long time and I really felt like together we would be able to capture the emotion and the immediacy of the songs. We recorded the album over a 5 day stretch in Aug-Sept. 2020, and everyone knocked it out of the park. Sam came from Toronto to add some pizazz at the overdub stage, and Amy Millan from Stars sang a beautiful backing vocal on the song "21." Howard Bilerman and his assistant Shae Brossard were so great to work with. I felt like we were all on the same wavelength. When everything was tracked I brought the tunes to Steve Chahley to mix, and he did a really amazing job of maintaining the rawness and immediacy of the takes while also making it sound great.
What does the record's title mean to you?
At its core it's a Canadian weather joke, 'cause when the highs are in the minuses it means it's really cold out. But I like that it can also be a metaphor for finding moments of magic and respite and relief in difficult times. I feel like at its core that's what this record is for me.
Your last album, The Shape of Your Name, was not necessarily stripped down — the arrangements are just as intricate as they are on this new one — but it was a more solo effort. For this record, you have collaborators like the wonderful Ada Lea and Liam O'Neill. What made you decide to go that route this time?
The Shape of Your Name was recorded in fits and starts over a 3 year period. There was so much thought put into every little sonic detail on that record, and I'm really proud of how it turned out. But I was in a deeply melancholic and semi-depressed state while making that album, and you can hear it in the songs. I knew I wanted to do the opposite on this record, just put a band in a room and not overthink it. Especially after spending months alone working on the songs, I was really craving the chemistry and spontaneity of playing them live with other people. I wanted that emotional immediacy and rawness to come through.
The single "Headlines" alludes to a feeling of anxiety. It's not stated explicitly, but I can't help but hear some of these lines as reactions to the early COVID lockdown period. Is this what you're pointing to, or is it more general?
I was in a bit of an anxious state before COVID, feeling like I was spinning my wheels a bit, and when the pandemic hit that feeling was just heightened and it all of a sudden felt like a universal sentiment. It's a song about being geographically and emotionally stuck, unable to move forward, and that was just the mood of early lockdown. Maybe that's a bit of a roundabout way of answering the question but I guess when I sat down to write that song I just wrote what was on my mind, and that included the verse about lockdown specifically. But I do feel like the song exists outside of that as well.
A lot of your songs have this almost stream-of-consciousness quality to the lyrics, where you're telling a story in a way that doesn't feel strictly planned, but more like how people actually tell stories. Who are some of your inspirations, and do you think they play a role in your writing style?
On this record in particular the writing feels very conversational and off the cuff to me, and I think that came from listening to a lot of writers who are loose and generous with their words and phrasing, like Arthur Russell, David Berman, Elliott Smith, Elyse Weinberg, Yo La Tengo, Stephin Merritt, even Joni Mitchell. I've always been a little wordy but on these tunes I tried not to self edit as much. It felt like things were more potent that way. And I think because I wasn't seeing people other than my partner very much while working on this music, I spent a lot of time with certain records getting to a level of familiarity where they felt like old friends. I find what I listen to always affects what I write, even if it's indirectly.
Your new single "Partner in Crime" is incredibly sweet and has a music video inspired by Wes Anderson's Bottle Rocket. Are you an especially big fan of Anderson, and if so, what is your favorite movie of his?
I'm not a huge film buff in general, so I wouldn't call myself a megafan, but I've watched all of Wes Anderson's movies, except for Fantastic Mr. Fox I think. There are so many aspects of his work that I find delightful: the colours, the characters, the humour. The Royal Tenenbaums is my all-time favourite. It really resonated with me when I saw it the first time, and I've watched it so many times since. It's a classic.
What do you most hope listeners take away from this record?
I just hope this record can be a companion for people, and that the songs resonate and ring true for folks. That's all you can hope for I guess.
What are you listening to these days? Are there any records you're really excited about?
Ada Lea who played bass on this record just put out a stunning new album called "one hand on the steering wheel the other sewing a garden." I've been listening to that a lot. And the new Dorothea Paas album "Anything Can't Happen" is so great as well. Cedric Noel, who is another amazing Montreal artist, is also putting out an incredible record soon. I've been listening to his music a bunch. And I've been revisiting "69 Love Songs" by the Magnetic Fields. The writing and performances on that record just blow me away.
---
–
Eric Bennett | @violet_by_hole
---
The Popdosemagazine is ad-free and 100% supported by our readers. If you'd like to help us produce more content and promote more great new music, please consider donating to our Patreon page, which also allows you to receive sweet perks like free albums and The Popdosemagazine merch.