Artist Interview: Can't Swim Discuss Their New LP 'Change of Plans'
Posted: by admin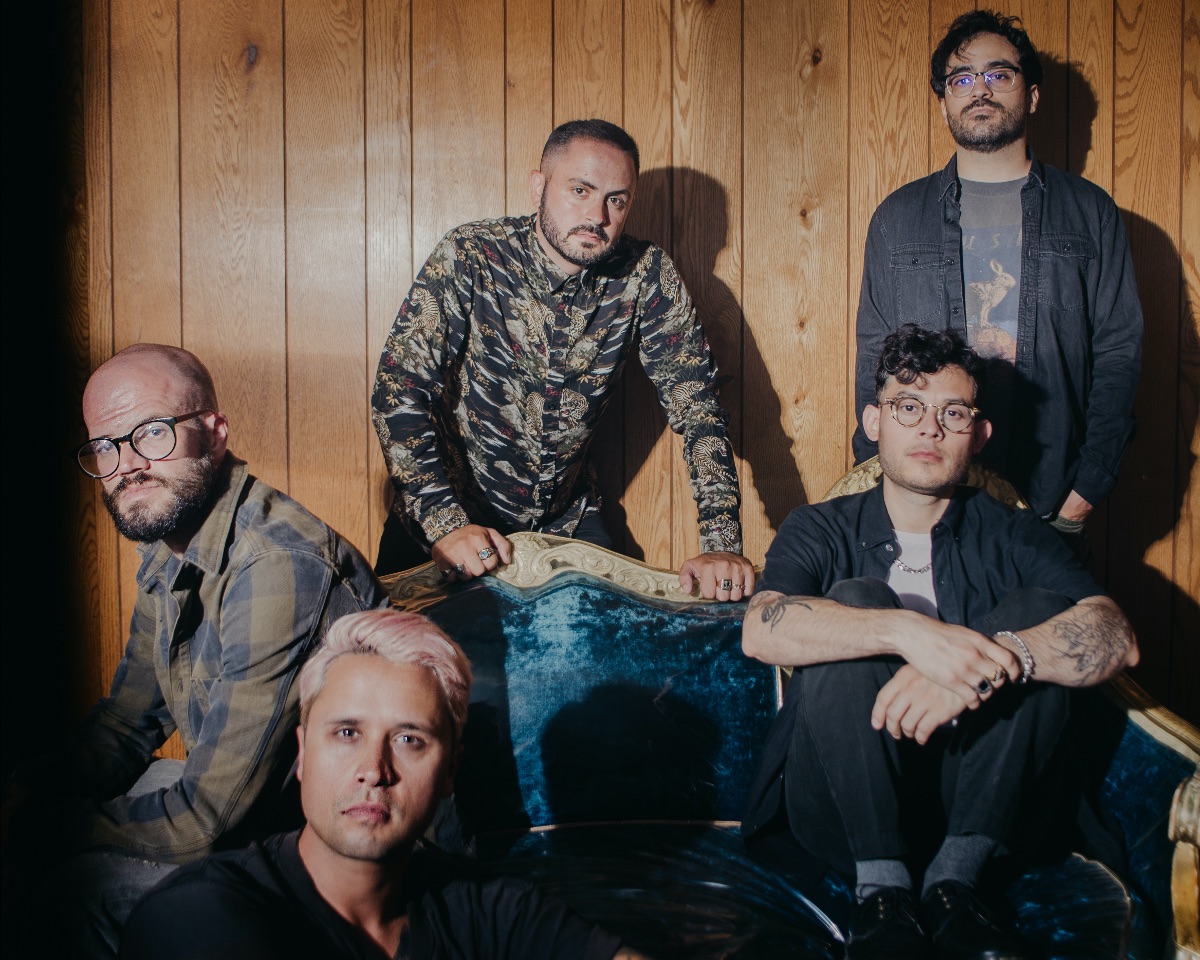 At the height of the pandemic-necessitated quarantine, Can't Swim vocalist Chris LoPorto sat in the closet of his parents' place in Florida, recording songs for the band's surprise acoustic EP, When the Dust Settles, which dropped in May 2020. Not long after came yet another EP of original songs, Someone Who Isn't Me. Both EPs, which LoPorto considers "Covid projects," featured new sounds for Can't Swim, now a five-piece featuring LoPorto, vocals; Danny Rico, guitar; Greg McDevitt, bass; Mike Sanchez, guitar; and Blake Gamel, drums. The acoustic EP gave fans a chance to hear a stripped-down reimagining of the band's hit "Stranger," and Someone Who Isn't Me featured plenty of synths and dance beats, which surprised some fans to the point of annoyance. Can't Swim has never been shy about their desire to constantly fine-tune and progress their sound, but some fans wondered, But this much?
Yet with their first LP since 2018's This Too Won't Pass out today on Pure Noise Records, Change of Plans, Can't Swim have landed somewhere most fans who have been along for the entire ride will be able to appreciate. Following the natural curves in the path their music has taken them, Change of Plans doesn't venture as far from the road as 2020's two EPs, but for anyone hoping the band will continue rewriting their first two studio albums over and over, well, no luck here. No hard feelings; but as the band forge ahead, their only response to that feedback would be, Sorry, keep enjoying the old stuff and catch us on the next record.
It's that confidence with themselves and with their songwriting that have seen the fivesome produce what, to them, feels like the most quintessential Can't Swim record of all in Change of Plans (and no, they're not just saying that to sell more copies). "We take our live performance as a big catalyst of how we want our albums to sound," LoPorto told me the week before Change of Plans' release. "If I wanted to make a jazz album, it would fall flat on the other musicians in our band. Change of Plans was really a call back to home of things that not only do we think we do the best, but we also seem to enjoy."
If you listen to the album all the way though, you'll notice there aren't many softer or quieter songs. Not that the band doesn't enjoy writing those kinds of songs, LoPorto says. But "we use this as a reason to yell and get sweaty and get aggression out," he adds. "If we could play a show and it was all 11 of these songs, we would be excited to do so. I think that was the goal, and I think that's gonna be the goal from here on out. We've already done so many things, so many curveballs, experimented so much, we want to keep doing those things and work them into the newer songs, what drives us is still being a band, playing loud, working off each other's energy."
And, whew, do these five have a lot of energy to work out when they get on the road with Silverstein and The Plot in You starting November 4 in Cleveland, Ohio. Can't Swim's last live show was in London in late February 2020—20 months ago. The LP has been recorded and waiting to be released into the world for more than a year, but the band wanted to drop it around the time of returning to playing live shows; they didn't want this to be another Covid project.
Thematically, Change of Plans echoes the ideas that Can't Swim have explored in previous albums—alienation, heartbreak, evil, and religious imagery in general, the latter of which factors into this album more than any previously. The Oni head that made its first appearance on This Too Won't Pass reappears in a reimagined form on Change of Plans, this time with a full body. He was drawn in pencil entirely by LoPorto's friend, illustrator Brian Wrenson, and he is one element that helps tether the old music and the new.
"I seem to have a habit of putting the lyric 'evil' into a lot of my writing," LoPorto said. "This little Oni head guy that we put out on This Too Won't Pass seemed to be well received. We loved the imagery of the Oni and we wanted to keep it going. We asked Brian if he wanted to take a stab of making the Oni 2021 version and make him a little body. He still has six eyes, but he looks a little different; he seems to be more upset or angry. Brian hit the nail on the head on the first draft of his drawing."
LoPorto attended Catholic school his entire life. Past releases have touched on the ways in which religious language can also look like the language of romantic relationships—in "Stranger," the chorus "Oh god, I always felt like you were such a stranger" could be about a romantic relationship, but it could also describe a feeling of being alienated from or rejected by god. In the first single off Change of Plans, "Deliver Us More Evil," the lyric "Cause everything you want doesn't have a price / Even Adam didn't listen as he took the bite" is an overt reference to religion, but mostly LoPorto likes to toe the line with that imagery so that it can be received many different ways.
"I've touched on it super super briefly in previous Can't Swim things and I've always tried to create the comparison of the holds and struggles people feel with religion and romantic relationships," LoPorto said. "If I didn't throw the biblical phrases, if I took those out of 'Deliver Us More Evil, it could be a song about a failing relationship. I've always gravitated towards that comparison. Even now, at 32 years old, it's pretty thought-provoking how people live their life with the concept of religion being the thing that's steering their ship. Maybe about four or five songs on the newest album use that trick. 'Is he talking about a relationship or is he talking about god?' I'm still trying to use that same trick and maybe masking it a different way with this new album."
The backdrop to such lyrics is that familiar aggressive, hard Can't Swim sound but with a bit more…bounce, for lack of a better word. "Deliver Us More Evil" is a high-energy singalong special, but it's still at home in the greater Can't Swim universe. "If people were taken aback by 'Deliver Us More Evil,' they're gonna be really pissed off," LoPorto said with a laugh. "There are a lot of songs that are really different and not like our previous albums. 'Deliver Us More Evil' sounded similar to our previous stuff, but we were also the most excited about it; we thought it was the strongest song and the most conveying of emotion, and that's why we put it out. It's also nice that it's reminiscent of our old stuff."
Change of Plans was produced, mixed, and mastered by Will Putney (A Day to Remember, Every Time I Die, Body Count, Knocked Loose) of Graphic Nature Audio, who also pushed the band into new territory sonically. Almost every song on the album is in a different key; to get that chunky low note, the band will tune the guitars very low using a drop pedal. Sometimes they'll go as low as A Standard, a tuning Slipknot fans know well.
The band picked 16 demos and LoPorto worked on them remotely with Putney before getting together in Putney's new home studio in New Jersey. The first day consisted of playing the 16 through, and then they picked 11 and recorded them. It was "the easiest recording process in Can't Swim history," LoPorto says. "Other than Will being incredibly savvy and fast and making it way easier, we were just very prepared. Because of Covid I had time to really refine, and then Will refined even more, and then Danny got his hands on the demos and they got refined even more. The songs were already tortured enough by the time they started to be recorded on digital tape. Will certainly had a huge role in how the songs wound up sounding at the very end."
Oh, and for anyone who fell in love with Rico's angelic voice on "Floor 71" off Someone Who Isn't Me, the guitarist had plenty of opportunities to show off his pipes on the new record, from harmonies throughout and the bridge of "Opposite of God." "Danny has a beautiful voice," LoPorto said. "He's Shawn Mendes."
Now that Can't Swim gravitate toward playing what they enjoy playing and what comes naturally, not necessarily what they think they should be writing, the songwriting process often goes quickly. In a recent interview, LoPorto mentioned that one of his favorite songwriters once said that a great song should only take a half hour to write. I wanted to take a stab at guessing who it was, and from previous conversations, I knew that LoPorto loves Ben Gibbard and Robert Smith. Neither was who LoPorto was referencing (though Gibbard has talked about writing "Such Great Heights" very quickly.) With a couple gracious hints from LoPorto ("Chicago, late '90s, and sometimes he wears eyeliner like Robert Smith"), I triumphantly arrived at the correct answer of Matt Skiba.
LoPorto is a down-to-earth and downright delightful person to converse with, and because so much of Can't Swim is LoPorto, and so much of LoPorto is Can't Swim, there exists an interesting dichotomy between the band's anger and aggression and LoPorto's own hopefulness. "On paper, I don't think Can't Swim's lyrics are very hopeful, depending on how you read them," LoPorto chuckles. "But Can't Swim as a whole are what I decipher as hopeful. I've taken these negative experiences in my life and turned them into an incredibly positive type of lifestyle that's given me experiences and relationships. Lyrically I'm always coming from that type of mindset. People who are listening to it can find solace in that 'I'm not the only one going through this, this guy Chris seems to have gone through a similar experience.' That's what I would like to continue doing. That's the goal of Can't Swim."
In Change of Plans, Can't Swim sees that goal more fully realized than on any previous album. "It's not my style to say stuff like this at all, but I think it's our best work yet," LoPorto said. "I'm the most excited for this; I'm the most proud of this one for a lot of different reasons."
—
Michelle Bruton | @MichelleBruton
---
The Popdosemagazine is ad-free and 100% supported by our readers. If you'd like to help us produce more content and promote more great new music, please consider donating to our Patreon page, which also allows you to receive sweet perks like free albums and The Popdosemagazine merch.