Album Review: Pkew Pkew Pkew – 'Open Bar'
Posted: by The Editor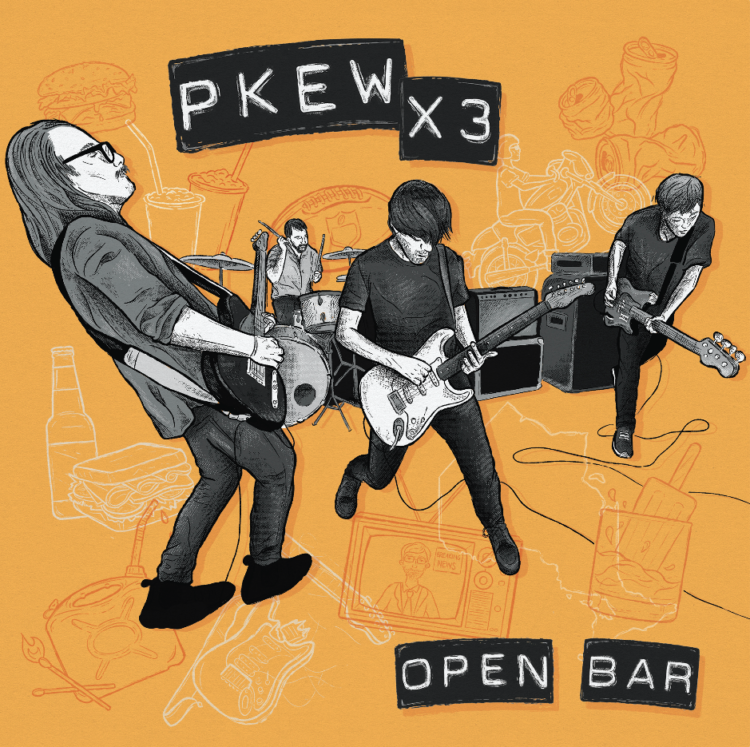 Pkew Pkew Pkew craft no illusions about who they are and the type of music they make: their fast-paced barroom punk makes it clear that they hate rich kids and young professionals, and love slugging beers and hitting the local skatepark. They put things quite plainly on the raucous album opener "Let the Bridges We Burn Light the Way," singing "you'll know us by the trail of dead beers in your town." On their first two records, Pkew Pkew Pkew was able to take this dirtbag aesthetic and wrap it up in some irresistibly fun punk packed with plenty of opportunities for a live crowd to shout along. Their new record Open Bar takes everything that makes the first two records great, but gets a little more adventurous with the arrangements while also tightening everything up a bit, with a run time around 30 minutes that is nonetheless packed with a seemingly endless supply of guitar solos and gang vocals.
Just because their lyrics embrace the drunk slacker lifestyle, doesn't mean Pkew Pkew Pkew's songs are sophomoric or gimmicky, as the band gives the highs and lows of this life equal time in their tunes, like "Maybe Someday," a song about living with a friend to save money ("it's half the rent and twice the suffering") that laments "as you get older it gets harder to correct being an idiot." The group's take on this style of punk can be contrasted nicely with the bands they are pointing a finger at in the satirical "Mom's Dime," with the refrain "I got a drug problem on mom's dime / I got a new guitar cuz I smashed mine." It's one of the moments where the band lets loose and gets a little wilder with things, as a rollicking guitar solo duels for attention with a fat ass bong rip over a repetitive earworm rhythm guitar line.
Pkew Pkew Pkew sound equally at ease on "Fresh Pope" where you can almost hear the band grinning as they deliver lines like "I'm just drinking vodka and milk / and I'm skipping work cuz I just didn't wanna go" and "the motherfucking Pope is back!" Same with "Beer Stick 'n' Ched," an ode to shitty food and beer with lines like "drinking hard, living softly" and a wicked outro solo from the guitar. "Safety Last" would fit well on the group's first record +One, but the more extensive arrangements with synth joining the infectious guitar riff show the way Open Bar differentiates itself from Pkew's previous two records, taking the band's sound a few steps forward.
"Drinking in the Park" and "Young Pro" close out the record, and may perhaps be the most quintessentially Pkew Pkew Pkew songs the band has put out. The former is about exactly what you think it is, with some of the most manic, breakneck riffs and solos we've heard yet from the group and a classic Pkew line of "we ain't hurting no one / you can keep your tickets / fuck you, bike cops are so dumb / just like the rest of 'em." After a distorted and disorienting interlude—really the only moment of calm on Open Bar—it leads into "Young Pro," a track that feels like the spiritual sequel to Optimal Lifestyles' fantastic "Adult Party." With lines like "wasting my money, but I'm saving my time" the band makes it clear where they stand on their lifestyle and what they think of the opinions of those society deems more "successful." It's a little more subtle than the refrain of "rich kids, go fuck yourselves" from "Adult Party," but it is also somewhat indicative of the step Pkew Pkew Pkew took on this record, ending instead with competing rounds of "we ain't no young professionals" and "drinking my pay on the minimum wage" overtop one last killer guitar line.
While there's only so much mileage a band can get out of singing about being young, drunk, and broke—and I'll be curious to see where Pkew Pkew Pkew go from here—everything on Open Bar sounds as it should be. The band may be "still broke, still drinking at the end of the day," but it would be impossible not to see some growth and even maturity—whatever that means in the context of a punk record like this—from their raw first album to the more focused and tight Open Bar, a record that accomplishes exactly what it sets out to in a fun way, while never trying to be anything it's not. Throw it on when you're getting ready to go to the bar, crack your favorite shitty light beer, and start chugging.
Open Bar is out today on Dine Alone Records.
Disappointing / Average / Good / Great / Phenomenal
---
–
Aaron Eisenreich | @slobboyreject
---
The Popdosemagazine is ad-free and 100% supported by our readers. If you'd like to help us produce more content and promote more great new music, please consider donating to our Patreon page, which also allows you to receive sweet perks like free albums and The Popdosemagazine merch.