Step 2 Rhythm-July 2022
Posted: by The Editor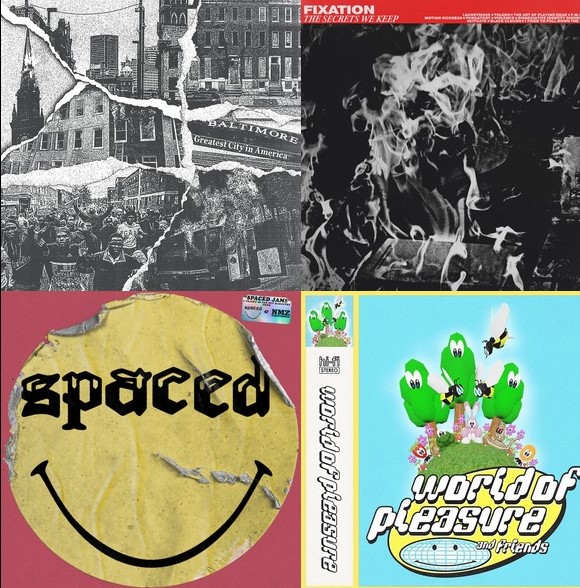 Hardcore is currently thriving, and it doesn't seem to be slowing down anytime soon. As a way to document this current moment, we present Step 2 Rhythm, a monthly column rounding up the best in hardcore coming out right now. 
---
A Knife In The Dark-One Way Needle
A Knife In The Dark's version of hardcore is menacing and brutal, conjuring memories of the genre at the turn of the century. Calling them heavy isn't quite descriptive enough—this is music to bludgeon your senses and cause permanent hearing damage.  They accomplished this first on their debut EP Between The Pew and The File last year. "My Own Knife" unleashes immediately into a fury, and the EP never lets up from there. The newest release, One Way Needle, is no different and provides more pissed-off straight-edge diatribes for listeners to enjoy.
---
Bent Blue-Where Do Ripples Go?
Though Bent Blue is compared to and takes inspiration from Revolution Summer, I cannot help but hear the melodic hardcore of the '90s when listening to them. It was a time when the genre changed, marrying pop sensibilities with the hardcore framework to create something new. One of the progenitors of this sound was Lifetime, and I feel their spirit on Where The Ripples Go? Bent Blue similarly makes catchy earworms while using the hardcore form to express something personal, exploring topics like self-confidence and grief.  
---
Carbonite-Like A Sickness
There's very little information to be found on Carbonite. It's a band comprised of members from Year of The Knife, Jesus Piece, and Simulakra. In 2020, they quietly dropped an EP on the rising label From Within Records. On it, they showcased their version of hulking metallic hardcore that at times reminds of Buried Alive and Turmoil. Now two years later, we have the follow-up in Like A Sickness. It's no less abrasive and about what you would expect from Carbonite. The opener "Mercerism" jumps into a pummeling attack that never lets up throughout the EP's short 11-minute runtime. 
---
End It-Unpleasant Living
End It is Baltimore through and through. They would simply be a different band if they were from anywhere else. Unpleasant Living is the truest expression of that reality, choosing to be rather explicit in the opener "B.C.H.C." You can't get much clearer about their lineage than featuring Justice Trip of Trapped Under Ice and Angel Du$t in "New Wage Slavery." But what makes this band memorable is the vocalist Akil Goodson. There's a charisma that makes every single word out of his mouth so compelling. It's why they've become one of the rising acts in the hardcore scene. 
---
Fixation-Secrets We Keep
Fixation comes from the lineage of hardcore that is a bit more brooding and introspective. People may call it dark, but it expresses an actual reality. Just talking about intra-scene drama will eventually become stale. It's why American Nightmare became so beloved and why Blacklisted became a scene staple years later. People can see themselves in these songs instead of feeling alone. On the Secrets We Keep, Fixation is talking about the things we withhold from each other, such as vocalist Wyatt Oberholzer own bout with depression during the pandemic. It makes for a listen that, while difficult at times, is extremely rewarding.
---
Rejection Pact-Promo 2022
From the beginning, Rejection Pact has always had an eye toward issues beyond the typical hardcore fodder. The breakout song on their 2018 demo, "Hired Goons," is a classically anti-cop song, and their debut record, Threats of The World, only doubled down and is very much about internal or external threats. They pair that kind of fury with a sound that calls to mind 2000s hardcore with a bit of youth crew embedded. And now it looks like they're prepping for a new record with Promo 2022. Even though it's technically only one new song, it's enough to tide me over while I wait for the next release. 
---
Spaced-Spaced Jams
Spaced continues the tradition of Buffalo hardcore that Every Time I Die solidified decades ago. But they bring their own flair, harnessing similar energy as Turnstile when they released their demo in 2010. You got to hear Spaced's charisma firsthand on their demo from last year, which served as a perfect introduction to the band. Lexi Reyngoudt's vocals immediately draw you in, turning a good band into a great one. They've only continued to deliver on the promise of that demo, releasing a slew of singles over the past year. Now we have Spaced Jams, which compiles everything released so far into one place and even adds some new songs to fill the release out. 
---
The Others-Dive Into My World
The first time I listened to Dive Into My World by The Others left me with genuine excitement that I rarely feel when I try out a new band. There was an adventurous spirit that is sometimes lacking from a genre that can sometimes be tied to tropes to a fault. Not many other bands would feel comfortable leaning into alt-rock to close out an EP. But chances like these make this band compelling enough to include in this column. I highly recommend this one, especially if you enjoyed Failed Entertainment by Fury. 
---
World of Pleasure-World of Pleasure & Friends
World of Pleasure doesn't sugarcoat things. They are an in-your-face, pissed-off, vegan straight-edge band. For them, this is the only possible response to people who kill animals for their gain. "Domination," a song from their debut demo, lays out their ethics pretty clearly, asking, "how can death be humane." If you were expecting anything different from their follow-up, World of Pleasure & Friends, you would be disappointed. It is just as heavy and slicing in its metallic hardcore fury. And you get to see many characters contribute vocals here, making it feel a bit more like a family affair than the previous release. 
---
—
Hugo Reyes  | @hvreyes5
---
The Popdosemagazine is ad-free and 100% supported by our readers. If you'd like to help us produce more content and promote more great new music, please consider donating to our Patreon page, which also allows you to receive sweet perks like free albums and The Popdosemagazine merch.