Album Premiere: Curtail – 'When the Sway Sets'
Posted: by The Editor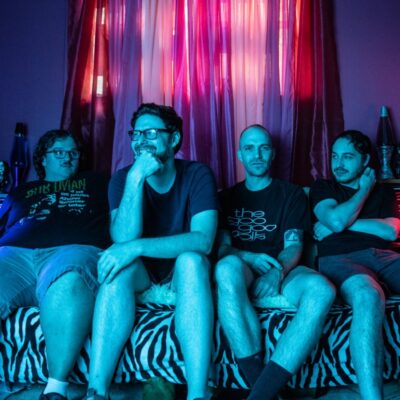 All Your Luck, Curtail's 2018 debut LP, was a hidden gem. Any number of bands play '90s-inspired indie, but few did it with the heart that Curtail did. Thankfully the band is back with their long-awaited sophomore LP When the Sway Sets. The record is cut from a similar cloth as its predecessor–it's clear that  Archers of Loaf, Built to Spill, The Dismemberment Plan, and Smashing Pumpkins are still on their Mount Rushmore–but it's got a fuller, more confident sound. It's the sound of a band wholly comfortable with themselves.
As impressive as pre-release singles "IDK" and "Blue Violet" were, many of the deep cuts are even better. The way "Hard to Breathe" disintegrates into a hectic, jazzy bridge and then bounces back into a pop hook is powerful, and the jangle of "Hiya" just begs to be played out of a speeding car on the way to the beach. In the other direction, "Into the Particle" perfects the spacey dream pop that bands like Prize Horse and Leaving Time have been toying with in recent years.
Luckily, we've got an exclusive premiere of When the Sway Sets a full day early, so the wait's over. Check that out below, and be sure to pick up a copy of the record–though it might sound like Merge material, it's out through Friend Club Records.
When the Sway Sets is out tomorrow on Friend Club Records.
---
—
Zac Djamoos | @gr8whitebison
---
The Popdosemagazine is ad-free and 100% supported by our readers. If you'd like to help us produce more content and promote more great new music, please consider donating to our Patreon page, which also allows you to receive sweet perks like free albums and The Popdosemagazine merch.